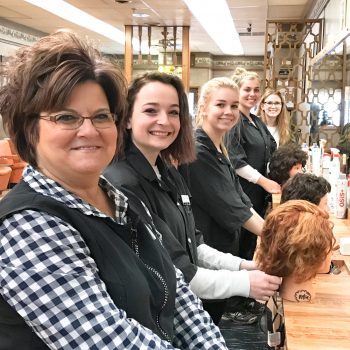 STATE BEAUTY ACADEMY: AFFORDABLE EDUCATION & COMMUNITY INVOLVEMENT
Saturday morning salon visits were a memorable part of growing up for Jean Wolf. Each week her mother and grandmother would travel from LaRue to the State Beauty Academy. In 1979, after graduating from Elgin High School, Wolf immediately began attending the State Beauty Academy and graduated with her cosmetology license in 1980. She went to work for Meryl and Vickie Reed at their local salon, Hair Designers. Five years later, Jean began teaching at the State Beauty Academy. In 2002, the Reeds were propositioned for the sale of the State Beauty Academy and Hair Designers. They declined. Soon after, the Reeds asked Jean Wolf to purchase their family business with the faith that she had the Academy's best interest in mind.
The State Beauty Academy brings students to the Marion area from all over the state, providing an affordable education. The class sizes allow more time with instructors. The full-service salon gives experience needed for a successful future.
Natali Carr, a cosmetology graduate of the State Beauty Academy, says, "Jean always encouraged me and helped me to see my full potential. Jean loves to get involved with the Marion community. "
Through Job and Family Services, the Academy provides shampoo services for the homeless to prepare for job interviews. Each year Wolf partners with the state prison for their employee Women's Day. Coupons for haircuts are given to local churches who provide assistance with back to school programs. Wolf also takes part in local events such as charity style shows. As the State Beauty Academy has become a staple in Jean Wolf's life, so has the Marion community.
#MarionMade #WeAreCommunity #WeAreStateBeautyAcademy