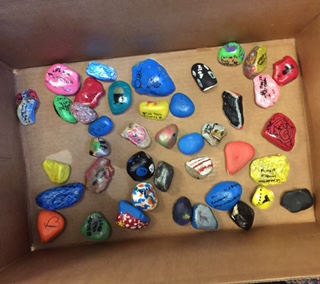 MARION OHIO ROCKS.
Rock painting is popping up in communities all over the country. As the desire for positive community relations is becoming a priority for many, people are looking for small ways they can make a positive impact on those around them. While it may seem like a small thing, a simple painted rock has the ability to draw people close to those around them.
Here is the basic idea–paint a rock and place it around town, on bike trails, at parks, churches, and OUTSIDE of businesses, etc.  Once the rock is placed, someone else will hopefully find that rock, and it will hopefully brighten their day. As this project grows, it is our hope that people all over Marion County will join in the fun, by finding, painting, and hiding their own rocks!
A Facebook group called "Marion Ohio Rocks" has been formed by Amanda Russell, 5th grade teacher at River Valley's Heritage Elementary.  She and her students are so excited to be a part of the first batch of painted rocks that are going out into our community.
Everyone is welcome to paint, hide, and find rocks. Painters are encouraged to post a picture of their rocks to the Facebook page when they hide them. Likewise, people who find rocks should post as well–and re-hide them, if they'd like.
Similarly, the Behavioral Health staff at Center Street Community Health Center launched a rock "campaign" to draw awareness to mental health issues. They have been hiding their rocks, painted with words like "hope," "live," and "smile," all over town with the message, "To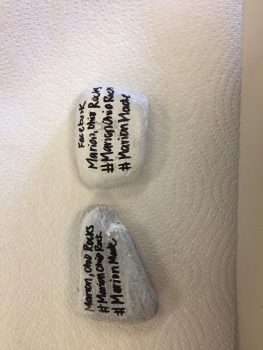 many people, stigma can feel like a rock blocking the path to mental health wellness." They encourage people who find them to help "remove the rock."
A similar group, Northeast Ohio Rocks, has, in less than a year, amassed 146,000+ followers on Facebook and hides rocks all over Toledo and surrounding communities. Pages like theirs are full of examples and ideas. Locally, rocks are "tagged" on the back with #marionmade and #marionohiorocks.
.
#MarionMade #WeAreSmiling