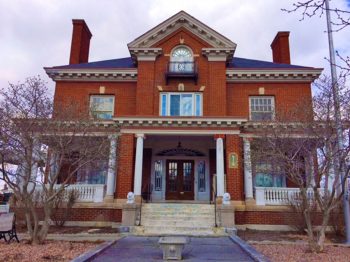 Marion is home to numerous historic houses, and one of the most beautiful ones is the Huber Mansion built by Industrialist Frank Huber in 1908. Located at 416 East Church Street, the three-story, 8,100 square foot home is just a short walk from the Harding Presidential Center. The home's first floor features craftsman woodwork throughout, original chandeliers and sconces, a grand staircase with elaborate balusters and railings, four fireplaces, hardwood floors, crown moldings, pocket doors, stained glass, French doors and a gracious front entrance.
Bob and Connie Goyer, who have renovated a number of properties including the Uhler Building in downtown Marion, purchased the Huber Home in 2011. They are in the process of returning the Huber Home to its previous glory.  The Goyers are a team in their renovation efforts; however, Bob is quick to say, "Connie is the skilled decorator and building renovator. She is like an architect, contractor and interior decorator all rolled into one." He credits her with the overall vision for restoring their home.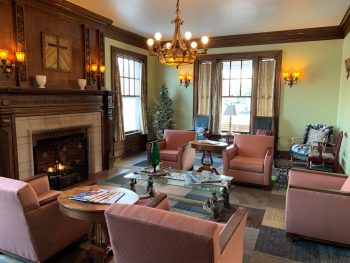 The Huber Home was built by the architectural company Richards, McCarthy & Bulford of Columbus, who also built the Carnegie Library in Marion. Considered a Federal Style Brick Home, it was one of the first houses in Marion to have electricity. Back then the construction costs were $25,000, which would equate to nearly $1 million today.
After the Huber Family moved in, Frank's wife, Nona (daughter of Fahey Bank founder Timothy Fahey), died in 1910. He stayed in the home and raised their children to adulthood. He then married Rose Gordon in 1927. She died in 1933 and five years later Frank died. His daughter and her husband lived in the home until 1963. Over the next 50 plus years, the building was occupied by numerous businesses including Ohio-American Water Company and Monarch Builders until the Goyers purchased it.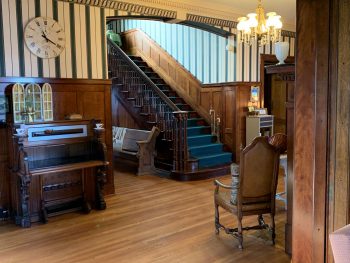 Today the second floor is for private use and the third floor is for business use as an apartment and loft space.  Plans for the home include: meetings, retreats, small weddings, photo shoots, dinners, luncheons, teas, coffee's and bible studies.
As the Goyers work to restore the Huber Mansion, they are on a mission to use the restored rooms for programs for senior citizens.
"As senior citizens, Connie and I want to dedicate ourselves to improving the lives of seniors in Marion," said Bob. "We are lifelong residents of Marion and understand the community." 
Bob, who recently retired, worked in the healthcare industry for 12 years, including 8 years in assisted living. "I worked closely with families to understand the issues facing Seniors and providing practical solutions to their concerns." 
The Goyers said they plan to start up the Gray Hair Matters social club. "It will provide a faith-based membership group for fellowship and companionship for active older adults," said Bob. "It will offer relief to family members allowing them to go to work, handle personal business, or just relax while knowing that the older adult is enjoying companionship with friends."
Their vision for Gray Hair Matters

–"Senior-preneurs"—as a charity-based micro-business group creating innovative products that highlight seniors.
–Daily Christian devotions.
–Senior University—home safety, universal home design, finances, healthy living, emergency preparedness, home maintenance, senior-friendly technology, aging in place, elder abuse/elder self-abuse.
–Staff led or self-directed activities for personal enjoyment or enrichment.
 "We want Seniors to remain involved and active in Marion," said Connie. "There is wisdom and creativity in seniors." she added. 
Bob and Connie believe the community-minded Huber Family would approve of their plans. A tour of the home is scheduled for Sunday, December 1, from 1 – 4pm, with admission.  For more information on the tour and the Huber Home visit their Facebook page @huberhistorichome or email bobgoyer@yahoo.com.
#MarionMade #WeAreRestoringHistory