FOOD AND FELLOWSHIP UNITE PROSPECT COMMUNITY.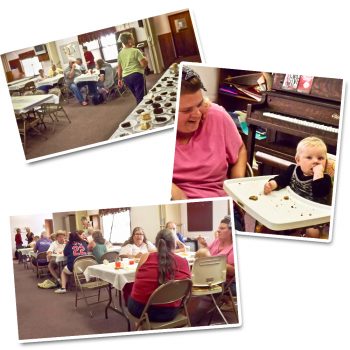 The four Prospect community churches are following the model found in Matthew 25:35: For I was hungry and you gave me something to eat, I was thirsty and you gave me something to drink, I was a stranger and you invited me in. The churches – Community Christian Fellowship, St. Paul's Lutheran, Prospect Baptist and Prospect United Methodist – began the weekly Sunday evening meals as an outreach to those who are hungry in Marion County and short on food.
According to Pastor Carolyn Christmas of the Methodist Church, "this was also a way for churches members to fellowship with one another." Pastors Steve Whitaker and Debra Moreland agree. They also believe the goal of outreach is successful each week with an average of 85 joining in fellowship for the weekly meals.
"Food and fellowship. That's what we are about," said Pastor Moreland.
"We began this not just for folks who needed assistance," Whitaker said, "but just a meal for fellowship and food. I'd say that about half who attend are senior citizens, widows, or widowers. They come just to have someone to talk with and socialize. We've never considered stopping it (weekly meals); I'll put it that way."
Beyond the Sunday evening meals, the church community has a food pantry, a personal needs pantry and the Community Christian Fellowship also provides 200 or more lunch bags for students in K-5 at Elgin Local Schools each Friday to ensure children from low-income families will have nutrition available over the weekend. Moreland sees the churches working together and said, "There is value in fellowship and when folks come together in fellowship and friendship, it is invaluable."
#MarionMade #WeAreFellowship