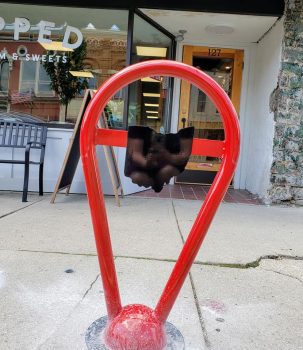 Some artistic additions to downtown Marion have made their appearance. Shaped like the exclamation point from the MarionMade! logo, the new custom bike racks are popping up in front of Marion businesses to indicate that they are "bike friendly." The Bike Friendly Business initiative is a collaboration of Downtown Marion Inc., Marion County Regional Planning Commission, and Marion Public Health.
"Being 'bike friendly' means that these businesses have agreed to welcome bicyclists into their shops — without the need to make a purchase, to utilize their restroom facilities and offer a cold drink of water — and in return, a MarionMade! branded bike rack will be installed in front of the business," said Downtown Marion manager Clarissa Myers. "And, they have added some type infrastructure improvement, such as additional seating, nearby."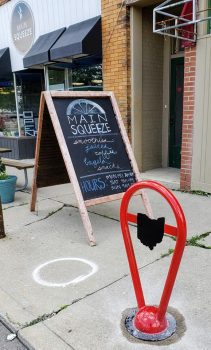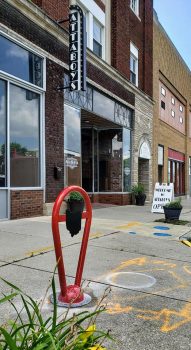 Initially four downtown businesses – Topped, Attaboy's, Main Squeeze, and the upcoming Center Street Market – have been recognized as Bike Friendly.
"This is a win-win for our business owners and bicyclists as we further our efforts to encourage and accommodate active transportation in our community, " said Robert Morris, Planner with Marion County Regional Planning Commission.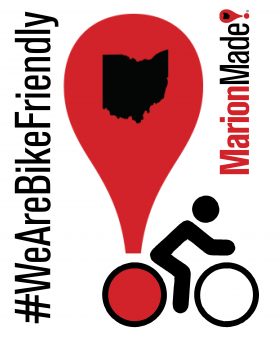 The new bike racks have been custom made and are shaped like the exclamation point of the MarionMade! logo. They were designed by Marion resident Lori Stevenson, who also helped to create the #WeAreBikeFriendly logo decal, which incorporates the MarionMade! community pride branding, for businesses to display and identify themselves to cyclists.  Additionally, this logo will be listed beside the business' name on the Cultural Corridor Map, a collaboration of the Marion Convention and Visitors Bureau and Downtown Marion Inc.
"The design is unique to Marion," said Stevenson. "They are functional — you can lock your bike to it — and, when not in use, voila! Street art!"
The unique bike racks will also be installed in front of Marion Public Health, at Sawyer Ludwig Park, and eventually throughout Marion City.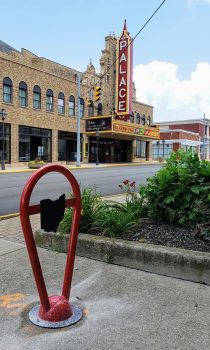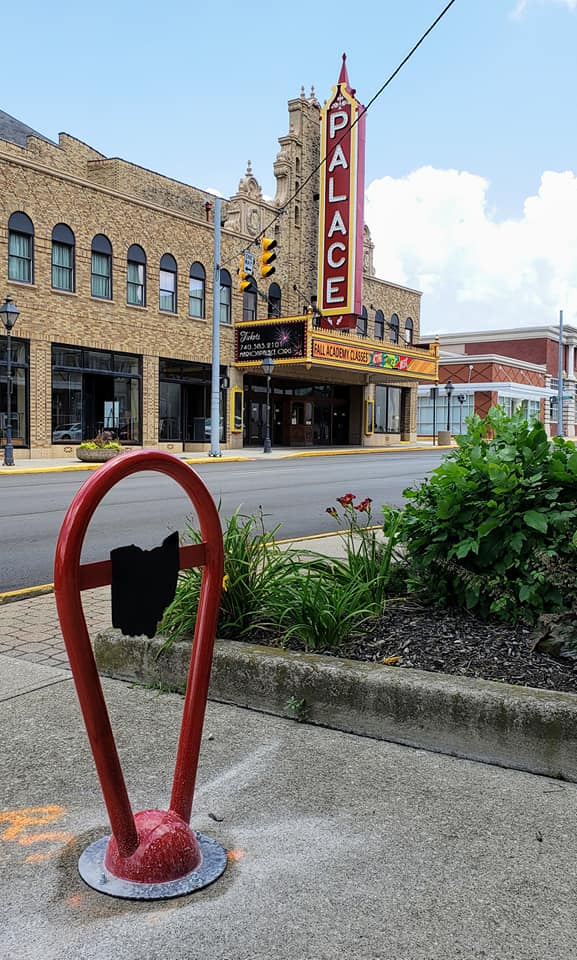 The Bike Friendly Business project has been taken on by Downtown Marion Inc. with the help of the Built Environment Committee.  Businesses which are recognized locally as being Bike Friendly will also be registered with the League of American Bicyclists, a national organization that promotes cycling for fun, fitness and transportation through advocacy and education.
#MarionMade #WeAreBikeFriendly