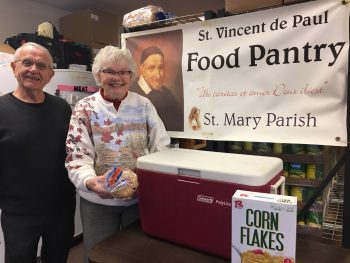 During the month of December, MarionMade! will feature people and organizations who exemplify generosity and have as their mission to help other people.
Locally, the Society of St. Vincent de Paul is known for its food pantry and thrift center in downtown Marion.  This outreach of St. Mary Catholic Church is part of much bigger, international organization that has existed to serve the needy and suffering since 1833.
"Inspired by Gospel values, the Society of St. Vincent de Paul leads women and men to join together to grow spiritually by offering person-to-person service in the tradition of its founder, Blessed Frederic Ozanam, and patron, St. Vincent de Paul," said Society president Michael Bowe.
The Marion chapter was founded in 1928 by three parishioners. Members, called Vincentians, focus on service to the poor and fulfilling the Church's teaching of the Corporal Works of Mercy, specifically to 'feed the hungry' and 'clothe the naked.' Members' meetings are held on the second Monday of each month at 6 p.m.
St. Mary's St. Vincent de Paul Society food pantry and thrift center is located at 342 N. Main St. Donations of clothing and household goods are accepted and offered for sale at value prices. The proceeds from the thrift center and all other donations, support the food pantry and keep it stocked for low income residents of Marion.
Pantry visits are by appointment, once a month, for a supply of 3-5 meals for the entire family. The pantry also carries personal hygiene items, clothing, and emergency food packets. It is supplied by donations from charitable individuals. Twice a month, a food supply is received from Mid-Ohio Food Bank and periodic donations are received from North Central Correctional Institution's gardening program, Wyandot Snacks, and Kroger's No Waste Program.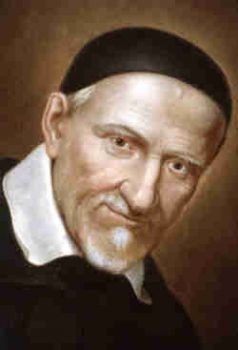 "The need for food in the Marion area is ever present," said manager Mary Dutton. "Nearly one in four local residents receives federal food assistance and/or Medicaid. We serve approximately 900 people each month."
Volunteers are the life-blood of an organization like St. Vincent de Paul.  They help to operate the pantry and center, sort and prepare donated clothing and items, stock the pantry, and assist shoppers, among other things.
The St. Vincent de Paul Thrift Center is open five days a week – Tuesday-Saturday, 10 a.m.-3 p.m. The Food Pantry is open by appointment between 10 a.m.-Noon, also Tuesday-Saturday. Information is available by calling 740-386-6422.
#MarionMade #WeAreCaring