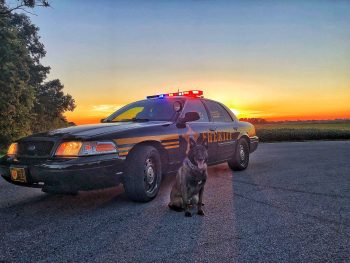 During the month of October we are highlighting information about the K9 units of Marion County. The dogs are trained to conduct building and large area searches for hidden criminals, tracking lost persons and criminals, article/evidence searches, and narcotics detection.
Though this is a light-hearted interview — asking questions as if the dogs have voices — they are valued personnel to the police department and community.   We thank them and their partners for their service and time given to protect the people of Marion County. 
Can you tell us what your name's meaning and how you got this name?
"Nero" was a Roman Emperor who reigned from about 54 to 68 AD.
What kind of dog are you?  Before coming to Marion County, where did you live?
I am a 5-year-old Belgian Malinois. I came to America from Germany.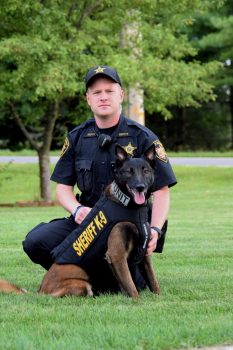 You have a partner–Deputy Ryan Kelly.  What are his best characteristics?  How long have you worked together?
Ryan's best characteristic, when it comes to work, is his proactive approach to policing and keeping the community safe. Outside of work, his best characteristics are making sure my brother, Kobe, and I have the best toys to chew on. We have worked together for about a year and a half.
What is your best skill at work?
My best skill at work is narcotics detection in buildings. When I worked at the jail, my main job was narcotics detection in the cell blocks. Because of this, I do my best work when I am inside. Over the last year and a half, I have started to enjoy sniffing vehicles in order to help my dad find drugs that the bad guys are transporting to and from Marion.
At your time off what is your favorite thing to do?  Do you have a favorite toy?
During my time off, my absolute favorite thing to do is play with my brother. Ryan always makes sure we have enough toys to play with, but sometimes we like to try and play with the same toy. If I'm not playing with my brother, I'm either sleeping or playing outside in the back yard. My favorite toy is called a Kong Wubba. Unfortunately that is my brothers favorite toy too, so sometimes we fight over it.
If you could tell the people of Marion anything, what would you want to say?
I could tell the people of Marion one thing, it would be thank you for the continued support the law enforcement community has from them. We are lucky to have a community that backs us as much as they do. Thank you!!
#marionmade  #WeAreMarionOhioSheriff