During the month of September, we will be featuring each of the school superintendent s in Marion County, asking them each the same set of questions.  We are using this as an opportunity to share their passion for education and their schools, as well as a little glimpse as individuals. Today, we visit with Bruce Gast, the Elgin Local Schools Superintendent.  We are thrilled you are MarionMade!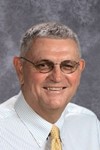 What made you want to be in education?  
I was fortunate to have many outstanding teacher role models when I was a student.  Therefore, I decided to go into the field of education to teach and coach.
How long how you been in the education field?  How long in Marion County?
This is my 45th year in education.  Forty years have been spent in Marion County and I was in Hardin County for five years.  
What was your favorite subject in school and why?
My favorite subject in school was always history/social studies.  I enjoy all history, especially military history. My grandfather was involved on World War One and my father was in the First Infantry Division (The Big Red One) and fought in Normandy and the Battle of the Bulge in WWII.  I enjoy reading and studying how historical events have shaped the world and society over time.
What is your favorite book to reread and why?
My favorite book to reread is Unbroken: A World War II Story of Survival, Resilience and Redemption by Laura Hillenbrand. This is a true story of one man's struggle to stay alive in WWII after being shot down in his plane, drifting in the ocean for weeks and then being captured and tortured by the Japanese.  This American hero lived to tell of his experience. This is an incredible story of courage, resilience and the will to live.
What do you believe are important skills to help a student be successful in school?
In today's world, it is important to have appropriate technological skills to be successful in school, in society and in your job.  However, it is still very important to communicate effectively with others. Reading and math skills are critical to being successful.  The ability to reason, think critically, and use "common sense" are also important ingredients for success.
If you had 3 wishes for your students this year in school, what would you wish?
First and foremost is that every student be happy.  Life can be pretty hard for some students and my wish is that they be happy.  Secondly, I wish that our students achieve their goals and dreams, both in school and after graduation.  I want to see that they are successful. Finally, I want the students to form lasting relationships with others.  It is so important that students have friends who they can share ideas with, who they can talk to and who they can depend on.
Tell us something that most people don't know about you.  
I am the proud caregiver for my mother of 90 years of age.  She has lived in the same home for 71 years. I take care of her medicine and her doctor's visits.  I pay her bills and I remove snow and cut grass for her.  She enjoys and looks forward to my daily visits. We have a wonderful relationship and we chat about the "good old days."  We hope to continue to share for many years to come.
Thank you Bruce for sharing with MarionMade!  
#MarionMade  #WeAreEducators   #WeAre Comets #WeAreElginLocalSchools