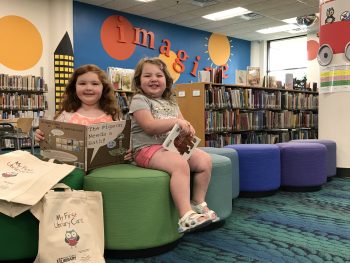 As the kids head back to school, lifelong learning opportunities continue at the Marion Public Library.  Beyond the ever present and extensive collection of books, magazines, and research materials that local residents have come to expect of the local library, programs for all ages, from birth to adulthood, are offered regularly by this community resource.
Storytime at the Library has been making memories for preschoolers and families for decades, but there is more to Marion Public Library these days.  The library still offers an extensive array of programs on subjects like history, travel, and crafts, but the focus is much more on outreach than ever before.  Digital resource usage continues to grow and the Library is continually expanding content that residents can access from anywhere.  The Library's Let's Read 20 early literacy program strives to put books into new parents' hands before their new bundle of joy leaves the hospital, , and outreach efforts such as My First Library Card and, most recently, off-site book discussion groups like Book Chats at Main Squeeze, extend the reach of the Library for thousands of Marion residents.
Anyone with a Marion Public Library card and an internet connection has access to thousands of ebooks, downloadable audiobooks, digital magazines, and even streaming video on most devices like smartphones, tablets, and computers.  There are also some powerful resources for those serious about lifelong learning and self-improvement.  Whether they are seeking to learn a new language or how to build a website from scratch, the library provides access to valuable content from services like Transparent Languages and, in the near future, Lynda.com, that can help – all from the comfort of one's own home.
Early childhood literacy has been a focus in Marion County for several years, but never before have kids been targeted quite so early to start reading. Now, all children born at OhioHealth Marion General Hospital and their families will receive materials to start them on the path of learning to read, thanks to local literacy initiative Let's Read 20.
Let's Read 20 provides families of newborns with gift bags that foster early childhood literacy. Each bag contains informational pieces that give new parents the tools so they can do this. They will receive a copy of a classic children's board book and a bib with "Read To Me" printed in bright, bold lettering.
The Book & Bib program also encourages parents to get a My First Library Card from the Marion Public Library. This library card, for users ages 5 and under, does not have late fees and allows families to borrow up to 30 items from the Kids Area at the library. Marion Public Library is adamant about pushing the message that "it's never too early to get your library card."
Statistics show that when children are read to at least 20 minutes a day, their vocabulary can consist of almost 2 million more words by the 6th grade than those who were not read to, or were read to less. The Library's programs support early literacy and promote life-long learning.
Outside of the Marion Public Library's building at 445 East Church Street, residents can pick up books at one of several Little Free Libraries located throughout the city.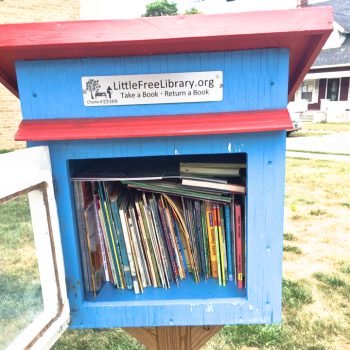 Little Free Libraries are all about building community, sparking creativity, and inspiring readers.  These libraries are small, creatively painted boxes offering free books. They are located at the Marion YMCA, United Church Homes on Center Street, and a number of front yards throughout Marion.
Little Free Libraries offer a give and take system. People are welcome to take any book in the box and encouraged to leave a book for someone else to read. This does not always happen, especially if the Little Free Library is located near a high concentration of children.  Marion service organizations like the Marion Altrusa Club have committed to keep books stocked in locations such as the one outside Marion's Boys & Girls Club for just such a reason.
Summer reading programs and teen and adult book clubs have been offered by the Marion Public Library for years. A new book group has been organized as a partnership between the Library and Main Squeeze Juices & Smoothies, 123 West Church Street. On September 12, Book Chat will meet to review "Dreamland" by Sam Quinones. Copies are available at both the Marion Public Library and the restaurant in advance of the discussion date. This is the first of a series of Book Chats, which will focus on "community and self-improvement through books that relate to contemporary issues in our lives and in our town."
Information on all that Marion Public Library has to offer is available online at marionlibrary.org or by calling 740-387-0992.
#MarionMade #WeAreReaders