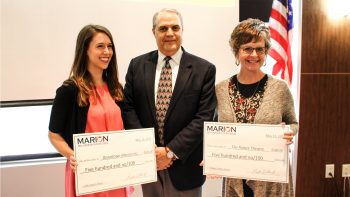 ANNUAL MARION CVB TOURISM APPRECIATION BREAKFAST
National Travel and Tourism Week is known to have many tourism-related events, such as the Marion Area Convention & Visitors Bureau's (MCVB) annual Tourism Appreciation Breakfast. The annual breakfast includes local businesses, organizations, and community leaders coming together to learn about the previous year's economic impact in the tourism industry in Marion County.
Recently, the MCVB incorporated the awarding of two community grants–promotional and programming–valued at $500 each for cultural nonprofits. Last year, the Marion Palace Theatre was awarded the MCVB's programming grant and Downtown Marion Inc. received the promotional grant.  In addition to awarding grants during the breakfast, the MCVB recognizes two special people in the tourism industry with the Customer Service Star Award and the Tourism Ambassador Achievement.
Preceding the upcoming Be a Tourist Day, the MCVB will host its annual Tourism Appreciation Breakfast on Friday, May 12. The breakfast, attended by the area's tourism partners and community leaders, will feature the announcement of the 2017 winners of the Customer Service Star and Community Ambassador awards. The Customer Service Star award is given to a frontline customer service staff member. Chosen among the nominees provided by area tourism businesses, the award acknowledges the importance of our area's customer service workers to the continued success of our tourism economy in Marion. The Tourism Ambassador Award recognizes an individual, group, or organization for their significant contribution to tourism in the Marion area.
The featured speaker for the breakfast is Melinda Huntley, executive director of the Ohio Travel Association.
#MarionMade #WeAreTourism