SENIOR SOFTBALL LEAGUE COMPETITIVE, FUN.
Baseball and softball—like motherhood and apple pie—are very much alive and revered in Marion, Ohio. From T-Ball to Senior softball, our community loves a good game. And that's exactly what fans get when they attend Marion Senior Softball Association's (MSSA) games held at Bigford Field in Kennedy Park, 237 Harding Highway East (St. Rt. 309).
Originally part of the former Marion Recreation Department, the Senior Softball League started in 1997 at Garfield Park with 4 teams. It moved to the current location in 2003 where it kept gaining more players. When the Rec Department was eliminated in 2012, it looked like senior softball was going to disappear, too. However, Steve Romshe, a citizen well known for his love of softball, stepped forward and helped form the MSSA to keep the tradition alive. During the association's first full season of play, May through August, they continued the 60+ league and created a new 55+ league. They also created a fall league that runs late August to mid-October. Currently, the 65+ league plays on Mondays; the 55+ on Tuesdays' and the 60 and over on Thursdays.
Romshe continues to play ball and is considered the official historian for the group. He said, "We play good competitive ball, but we welcome participants of all levels of play—male and female. It's about having fun, excercising and spending time together."
That time together isn't just on the ballfield. Although they pay the City Parks to do the mowing, the league helps maintain the facility, including painting the siding, general maintenance of the area and purchasing a scoreboard. With more than 104 players on 14 teams, they are an active association. The players not only come from Marion, but drive from areas such as Columbus, Springfield, and Willard to compete.
How is a Senior League different? The enthusiasm, competitiveness and love of the game is the same. They do, however, have separate home plates. 5 runs per inning, 7 inning games and are allowed to pick up players from other teams so they don't have to forfeit a game. Romshe said they do their team selections just like the NFL Draft. That way, all the teams are competitive.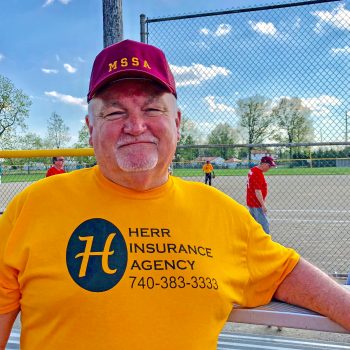 They also have faithful fans. Some who come to watch family members play, like Mike Ward's dad, Jim, 94, and stepmom, Vy. They seldom miss one of his games. The, other fans come because of the competitive good ball.
.
The love of playing softball has no age limits. And, that is so evident when you sit in the bleachers watching the action of the MSSA. You hear laughter and teasing as they practice, but once they step onto the field, the players put on their games faces and are ready to play ball!
.
#MarionMade #WeAreMSSA