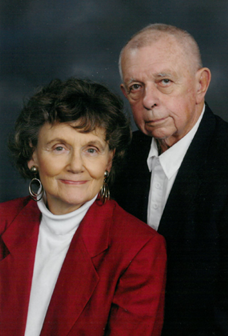 Love and devotion are the hallmarks of 75 years of marriage for a Marion couple. In the mid 1920s, two babies were born–220 miles apart–who were destined to meet.  George Raymond Ghearing was born on July 28, 1924, in Wellston, Ohio. On December 26, 1926, Evelyn Gene Sadler was born in Cleveland.  Her family moved to Minnesota, but, a short time later, they too settled in Wellston.  Evelyn and George met as children and, shortly after graduation from high school, married on July 10, 1943.
George, a star baseball and football player, had planned on a career in coaching.  World War II was to change his life's plan.  Shortly after their wedding, George left for the Pacific Theater as a member of the United States Marines.  On the morning of September 2, 1945, he stood on the shore of Tokyo Bay and watched General Douglas McArthur take a launch to the U.S.S. Missouri to sign the documents that ended World War II.  George's Marine unit had the distinction of capturing the last Japanese battleship of the war.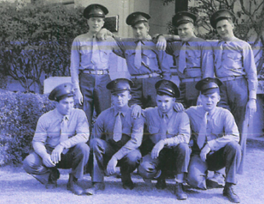 While the timing of George's career was put on hold, his career ambitions changed. While in the Marines, he was trained in telephony, launching what was to become a highly successful career in the field of telecommunications.  Following his service, George accepted a position with Ohio Standard Company, a predecessor of General Telephone and Electronics.
Following moves with GTE to Ashville and Celina, George and Evelyn's family grew to four.  In 1951, the Ghearings welcomed their firstborn son, Gerry, who followed in his father's footsteps as an executive with GTE.  Gilbert, born two years later, is a physician in Tennessee and a colonel in the US Army.  The Ghearings have been blessed with seven grandchildren.
While in Celina, George and Evelyn joined a small group of friends enrolling in extension classes offered by Ohio Northern University.  George completed a degree in business in 1965. Evelyn, who graduated in less than three years, earned hers in education and began her teaching career while George traveled the world on assignments with GTE.  George was transferred to GTE's state headquarters in Marion in 1963 and Evelyn became employed by Marion City Schools. These careers spanned the next 20 years.
Retirement did not last long for this industrious couple.  They founded GRG Telecommunications, Inc. in 1984.  George traveled the world on behalf of their new venture, while Evelyn managed the company in the United States.  This enterprise employed nearly 100 people and included trips to Burma for the United Nations and Grenada on behalf of AID, a federal government program providing assistance to foreign nations.  George's career also took him to Venezuela, Guatemala, Brazil, Russia, Nigeria, Egypt, and the Dominican Republic. The Ghearings retired from their entrepreneurial adventure in 2002 to enjoy their lives in Marion.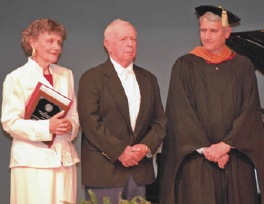 Strong advocates of education, the Ghearings have supported The Ohio State University, contributing to the remodeling of Morrill Hall and the construction of Maynard Hall on the Marion campus, and creating the Evelyn and George Ghearing Scholarship, benefitting students majoring in education, engineering, or business.  And, Evelyn is a charter member of the Buckeye Backers volunteer organization. In 2012, Ohio State Marion honored the Ghearings with the Ralph Howard Service Award.
The Ghearings are long-time supporters the Marion Family YMCA, as well as many other community organizations, including Cornerstone Alliance Church, of which they are faithful members.
In the past few years George's declining health has changed their service to their community, but their love and devotion to each other has made them stronger. The care Evelyn has enhanced George's life.  Few couples are able to reach this 75th milestone, but when it does happen, it is often attributed to the way they have lived their lives.
#WeAreMarionMade #WeArePeople