MarionMade! is about loving where you live–and, loving the people, places, products, and programs that make Marion a vibrant community. One group of people who are proud to serve the community are our public and elected officials, many of whom serve the communities of Marion County in these roles above and beyond their family and career obligations. MarionMade! offers this series of feature stories on local officials as a way to get to know those who serve us better.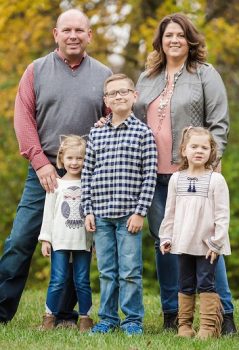 Marion native Josh Daniels continues to make it his mission to seek industrious solutions to problems in the Marion community.  Daniels, an Elgin student, graduated from Tri-Rivers Career Center, where he studied building trades.  He joined the U.S. Navy in 1989 and served in Jacksonville, Fla., where he worked as an aviation mechanic. He returned to Marion and studied at The Ohio State University at Marion before transferring to the main campus; by graduation, he had earned a certificate in real estate sales and a bachelor's degree in economics.
Daniels, a Marion City Councilman, owns and operates several businesses including apartment rental, construction, demolition, excavation, dumpster rental, and billboard companies. Many of the businesses he operates complement each other. For instance, his excavation company started out as a way to clear construction sites and properties that he excavates. His personal reward is knowing that his improvements to the community will set the stage for generations to come.
His career in building and operating apartment complexes started on Farming Street where he renovated a house, providing himself as well as others a place to live while he completed college. He went on to many other projects and became known for his "get it done" attitude.
Daniels served one term as a Marion County Commissioner and chaired the Marion County Democratic Party. He has served as a council member on Marion City Council since 2013. Supporters recognize Daniels for his love of and dedication to Marion, where he lives with his wife, Danielle, and three children. His favorite pastimes include mushroom hunting in Hocking Hills, feeding the fish in the family pond, and traveling with his father.  He's proud to be #MarionMade.