OHIOHEALTH: INVESTING IN EDUCATION AND OUR COMMUNITY
OhioHealth is a nationally recognized, not-for-profit, charitable, healthcare outreach of the United Methodist Church. Serving its communities since 1891, it is a family of 28,000 associates, physicians and volunteers, and a network of 11 hospitals, 50+ ambulatory sites, hospice, home-health, and medical equipment. OhioHealth hospitals include our own Marion General Hospital.
Recently, OhioHealth donated $100,000 to support the training of future health care workers at Marion Technical College (MTC) in a new, state-of-the-art anatomy and physiology lab. MTC's new 1,400 square foot classroom will provide a modern lab with hands-on learning for health care students taking anatomy and physiology.
͞"OhioHealth is proud to support Marion Technical College (MTC) to upgrade the college's Skills Lab, offering a more comprehensive experience to students there, including the addition of cadavers for the students to study," says Christopher Truax, Chief Operating Officer of OhioHealth Marion General Hospital.
Thanks to this donation, construction is starting now on the new lab in Bryson Hall. This new lab will benefit all students who take anatomy and physiology, including MTC's nursing students and medical assistants. MTC sonography students will be able to see how the organs lie within the body. Students studying physical therapy and occupational therapy assisting will be able to see the muscles as they learn about their function and relationship to other body structures.
͞"This will provide hands-on experience to take learning out of the textbook and into real life," Truax added. "Students will be able to see the variations in individual body structures and witness the effects of disease."
In addition to financial support, OhioHealth will provide clinical guidance and in-kind support. OhioHealth will be able to use the MTC lab for physician and staff training as well.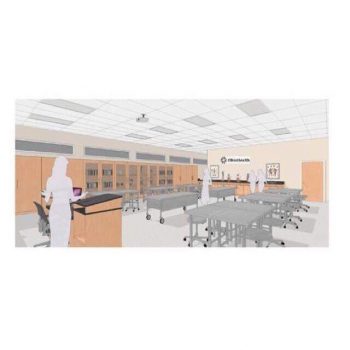 #MarionMade #WeAreGiving #WeAreLearning