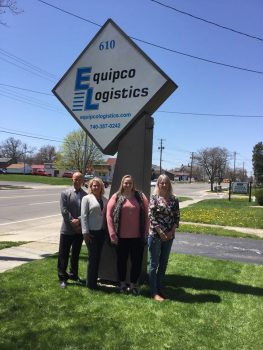 Equipco Logistics, LLC, formerly Equipco Freight, started in business in 1988, operating out of a small office in Marion. Equipco Freight was owned by Marquita and Ken Welshhans and was purchased by Marsha Persinger and Tyler Mills in 2007.  Since then, the company has built a solid reputation throughout the world as a modern and open provider of first class logistics and transportation services. This year marks 30 years of being a successful business in Marion, Ohio.
Marsha Persinger is the President and CEO, and Tyler Mills is Vice President; both are seasoned veterans in logistics services.  They credit their success to the outstanding customer service they and their staff provide on a daily basis.  Office staff Jackie Pennington and Christina Ellison do more than just move freight, they bring the expertise customers need to stay responsive, viable, and profitable.
Equipco Logistics, LLC moves freight all over the world by partnering with major trucking companies.  These trucking companies provide the equipment to move freight by land, air, sea, and rail from all points to all points across the world.  Equipco's staff takes pride in the service they provide and are very thankful for their sales team and trucking companies.  But, most of all, they are thankful for their customers who trust them to take care of all shipping needs.
"We love being in Marion because we have the small, hometown feel here and we can get to know our customers and they get to know us."
#MarionMade #WeAreKeepingMarionMoving