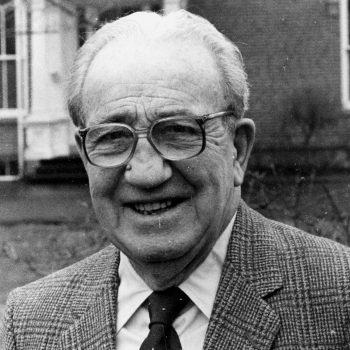 He lived in Marion, believed in Marion, and when he died on Thanksgiving Day in 1997, forever left his mark on our community and its people. George Alber was–and is–MarionMade! thanks to his legacy gift of a $32 million trust, administered through the Columbus Foundation.
.
Each year, thousands of Marion County residents feel the impact of Alber's generosity through local charities including American Red Cross of Marion, United Way of Marion County, Marion Family YMCA Endowment Fund, Salvation Army of Marion, American Cancer Society, and American Heart Association, among others. But, that's only half of the story.
.
The other half comes from his love for Ohio State. With a degree in business administration and a varsity football jersey, Alber credited much of his success to his alma mater. When he died, Alber directed that the remainder of his estate would provide scholarships for students to attend Ohio State's Marion Campus. Each year, more than 200 students from high schools all over Marion County attend college at Ohio State Marion thanks to the George H. and Dorothy T. Alber Endowed Scholarship Fund. In fact, the Alber Student Center on the Marion campus was named in his honor.
.
How did he do it? Soon after graduating from Ohio State in 1929, Alber moved to Marion where he started Marion Plant Life Services, eventually expanding it into five subsidiaries throughout Ohio. When he sold the company in 1971, it was the largest privately-owned fertilizer company in the United States, with clients around the world.
.
As a tribute to Alber and his impact on our community and Ohio State Marion, the
Alber Enterprise Center
in Maynard Hall was given his name when it was created in 1996. The Center continues to serve as a catalyst for economic growth and development, not only in Marion, but throughout Ohio.
.
#WeAreMarionMade #WeArePhilanthropists