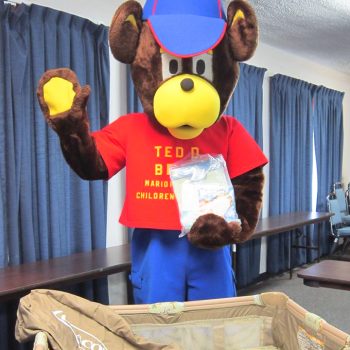 MARION COUNTY CHILDREN SERVICES
Marion County Children Services (MCS) mission is to lead the community in the protection of children by working with families to promote, develop, and maintain safe and permanent homes. In 2016, MCS saw an increase in the number of children in need and an increase of children staying in MCS longer from birth to five years old. In addition to those statistics, they also saw an increase of children being placed in homes with family members and close friends. This has a great impact on the well-being of the child/children during transition.
Children who do not have the opportunity to stay with relatives or close friends are placed in foster families. MCS currently has over 30 foster families and is always in need of more. If you are interested in becoming a foster family, please contact Marion County Children Services. After speaking with Jacqueline Ringer, Executive Director of MCS, she stated, "the Marion community has been good to us. Since 1989, residents in Marion have continuously supported the MCS levies."
Jacque goes on to speak about the collaboration in the community. She is thankful that many agencies come together to support the children and their needs.
Currently, there are two projects at MCS that help children stay safe. Those are Cribs for Kids and Buckles for Buckeyes. Marion Public Health and MCS partnered to provide Cribs for Kids. This program provides caregivers with a safe crib for their children. The second program is funded by a grant from Marion Community Foundation called Buckles for Buckeyes, and is a collaboration with the Marion County Board of Developmental Disabilities. This program provides children with a safe car seat. For more information, visit the Marion County Children Services website at www.marionkids.com.
#MarionMade #WeArePrograms #WeAreKids