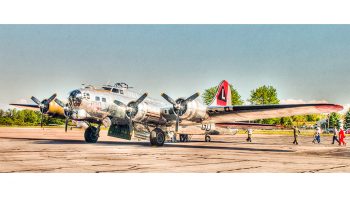 THE SKY IS THE LIMIT.
Built in 1950, the Marion Municipal Airport appears modest to the naked eye in comparison to its importance to Marion. Averaging 350 flights per month, the Marion Municipal Airport (MMA) welcomes big business to the Marion area. Whether it's corporate jets or local farmers taking advantage of our runways, MMA is a small but mighty asset to our community. With new hangers and ramps, MMA has plans to continue the restorations in an effort to replace the original terminal building.
In 2014, MMA hosted their first annual Fly-In event to raise money for restorations and encourage the Marion community to become more informed of and involved in how our airport benefits our community. Now known as the Wings & Whee ls Fly-In/ Drive-In, MMA has more than tripled the money raised from 2014, says MMA's board of directors President Dan Hempy.
"A big thank you goes out to Marion's local businesses. This event wouldn't have been possible without such great support from them," he said. "Thank you."  He also credits the volunteers — the Citizens Police Academy Alumni Association (CPAAA) and local Boy Scout Troops — who have again generously provided their help with parking and extra eyes to keep everyone safe.
"The Yankee Lady," one of ten still airworthy, is a WWII Flying Fortress, Boeing B-17 bomber, and this year's featured aircraft. Although rides in the plane were limited, there were plenty of opportunities for helicopter rides and sail plane rides from members of the Central Ohio Soaring Association (COSA) throughout the day. Wings & Wheels also promoted the Experimental Aircraft Association's (EAA) "Young Eagles" program by giving free first time flights to kids ages 8-17.
While attendees waited their turn to take a plane ride, they took part in one of the Marion AirFoils RC Flight Club's R/C Aircraft or Drone demonstrations and experimented with their flight simulators. There were also classic cars to stroll by from the local Cruisin' For Dialysis organization.
#MarionMade #WeAreFlying