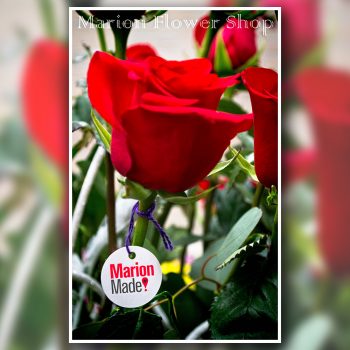 LOCAL FLOWER SHOP PROMOTES GOOD NEIGHBORS.
The Marion Flower Shop, known—among other things—for its rose give-away each September on Good Neighbor Day, has been a Marion institution since the 1920s.  It was started by Aaron Goerlich when he began selling vegetables from his home garden on his mail delivery route. In 1923, the first greenhouse was built to meet his customers demand for flowers and vegetables. In 1927, two more greenhouses were built and he began growing and selling flowers year-round, as well as arranging the cut flowers he grew. Goerlich was Marion's leading florist through the 1930's and 40's.
In 1957, the business was bought by John and Marge Keggan, incorporated, and renamed Marion Flower Shop, Inc. In 1961, Marion Flower Shop acquired Blake's Florist, the oldest florist business in Marion (established in the 1870's).
Many years later, in 2010,  under the ownership of Nathan Noblit, Marion Flower Shop became a full-service florist, offering services from weddings and events, to corporate offerings, to cemetery planting service, to everyday and holiday items.
On the morning of Good Neighbor Day–which is Wednesday, September 13, 2017–Marion Flower Shop gives away a dozen roses to anyone who stops in—as long as they promise to give the roses away and spread goodwill. Noblit says Good Neighbor Day has grown tremendously.
"This event has always been a lot of fun for us, and people will actually call us weeks in advance to find out what the date will be…so it's something that folks actually anticipate," said Nathan. "The first year, I believe we handed out 500 roses.  We are now up to more than 3,000.  Is it expensive to do this? Yes.  Is it worth it to see people from all walks of life smiling and interacting? ABSOLUTELY."
Marion Flower Shop sources its fresh flower products directly from growers and farms around the world. Its greenhouses grow seasonal flowers for Marion's churches, fundraisers, and for retail customers, as well as spring plants for gardeners and landscapers alike. Promoting a positive emphasis on community involvement in Marion, Marion Flower Shop truly is…#MarionMade!
#WeAreFlowers