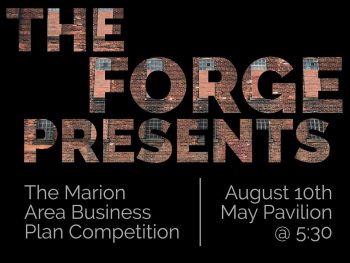 THE FORGE.
.
Each year the Marion Area Chamber hosts a Leadership Class. This class meets once a month from September-May for training on the '5 Actions of Leadership' based on the International best-selling book, The Serving Leader. Together, each Leadership Class chooses a project to complete as a team. With great passion, the 2017 Leadership Class was split between two great project ideas. After visiting several local businesses and taking the time to research, a vote was taken. The Leadership Class chose a Marion Area Business Plan Competition called 'The Forge.'
.
The intention of The Forge is to reach out to all entrepreneurs of Marion County. This event will provide an opportunity for participants to compete for a $2,500 prize and to market their small businesses to a large audience. Participants will also be automatically enrolled into The Forge's Business Accelerator program, which will hold free business classes, networking, and mentorship.
.
Jennifer Sheridan, of the 2017 Leadership Class feels, "This project is going to bring the entrepreneurs out–businesses that have been here, but did not have the platform to showcase themselves and their ideas."
.
The Forge has taken a true team effort. From forming the building blocks of a business plan to coordinating the event, students have traveled to Bellefontaine and Van Wert to speak with experienced community leaders such Jason Duff and Myra Moss to obtain information on recently developed businesses in their communities. Other students have observed similar events such as Sundown Rundown in the Columbus area.
Jennifer states, "I'm excited for Marion to see that we have the small business and entrepreneurial spirit right here in our community."
.
#MarionMade #WeAreTheForge #WeAreEntrepreneurs