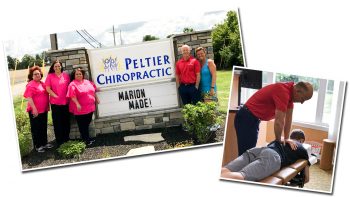 PELTIER CHIROPRACTIC.
Dr. Dave Peltier and his family settled in Marion, Ohio, in December 1992 and soon after opened Peltier Chiropractic.
"A couple of my siblings were living in Columbus, so we started to survey and visit outlying communities around central Ohio. We drove thru Marion and began talking to people that lived here about the community. We really liked what we heard and saw that day," Said Dr. Dave Peltier. "With 2 kids in the van and my wife nine months pregnant, we were driving down Delaware Ave. and stopped at the Harding Memorial. We said a prayer about where would be a good place to locate a practice in Marion. We took off down the street and low and behold was a for sale sign at a small house just past the Catholic cemetery."
After securing a loan from Mary Holloway and Carl Hughes from Fahey Bank, Dr. Peltier opened in that small house and soon out grew that location, moved to the Servex Center Plaza for 6 years, and then moved to the current location on Barks Rd. in January of 2000. The practice has thrived over the years and has benefited from the Marion community in so many ways.
"Marion has been, and continues to be, a great place to practice and to raise a family," he said. "The slogan 'You'll feel right at home' that we saw coming into Marion to greet us has always been there since day one! Schools, church and community involvement has always been a mainstay in our lives and the lives of our seven children. At Peltier Chiropractic we have always donated half of our initial exam fee back to the community thru local charities."
Making a difference in the health of peoples lives is what Peltier Chiropractic is all about. "You never know how or what you say or do throughout the day could impact someone and it always has a ripple effect," he said. "If the people were not as friendly and positive about their community that day we visited Marion years ago, we may never have moved here. I'm so glad we did!"
#MarionMade #WeArePeltierChiropractic