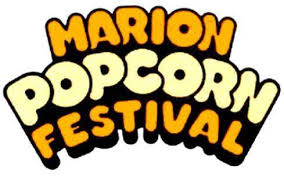 The Marion Popcorn Festival has been celebrating Marion for 37 years. The Popcorn Festival started in 1981 with a mission to bring nationally known entertainment to perform for the residents of Marion free of charge. The popcorn theme was chosen because Wyandot Inc., one of the largest exporters of popcorn in the world, was in Marion. Additionally, at that time, Marion County was one of the largest growers of popcorn in the U.S.
.
Ray Stevens, The Letterman, and Henny Youngman were the first performers at the Popcorn Festival. In the years that followed, the Popcorn Festival has hosted entertainers such as Gloria Estefan, Boyz II Men, The Village People, and Kellie Pickler. The festival brings over 250,000 people to Marion over the course of the three-day event, with visitors from all over the globe taking part in the festivities. The Marion Popcorn Festival has been recognized in the top 100 events in North America by the American Bus Association.
.
Although the Popcorn Festival takes place the first weekend after Labor Day, it's events occur throughout the year and weekend including pageants for all ages for girls, boys, women and men, as well as events such as a 5K, cornhole tournaments, a showcase stage full of Marion's talent and much more.
.
The Popcorn Festival is a volunteer organization run by Festival officials and 22 board members. Rob Koons, Director of the Festival, has been involved for seven years, serving as assistant director the past four years and serving on the board of trustees since 2014. Rob was also crowned the first Mr. Popcorn in 2016. Rob's passion is clear when he states, "Being part of an organization that puts on this type of event is amazing. I am looking forward to this year's entertainment lineup."
.
The 2017 performances featured The Prince Experience, Gin Blossoms, and The Georgia Satellites.
.
#MarionMade #WeAreThePopcornFestival