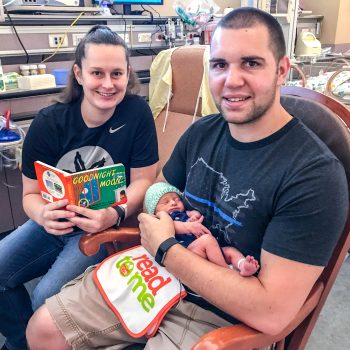 BOOKS AND BIBS: A GREAT LOCAL PARTNERSHIP
Early childhood literacy has been a focus in Marion County for several years, but never before have kids been targeted quite so early to start reading. Now, all children born at OhioHealth Marion General Hospital and their families will receive materials to start them on the path of learning to read, thanks to local literacy initiative Let's Read 20.
Let's Read 20, along with the Marion Community Foundation, Marion Public Library, Marion Rotary Club, and OhioHealth, have a program to provide families of newborns with gift bags that foster early childhood literacy. Each bag contains informational pieces that give new parents the tools so they can do this. They will receive a copy of a classic children's board book and a bib with "Read To Me" printed in bright, bold lettering.
The book & bib program encourages parents to get a My First Library Card from the Marion Public Library. This library card doesn't have late fees and allows families to borrow up to 30 items from the Kids Area at the library.
Why would babies need a library card? The Library is adamant about pushing the message that "it's never too early to get your library card." The Library and Let's Read 20 know that successful readers begin picking up the skills of reading far before they start learning their ABCs.
Also in the bag is an invitation for parents to sign the Let's Read 20 Promise, which allows people to pledge to read to a child for 20 minutes each day. Anyone can make the promise at letsread20.org.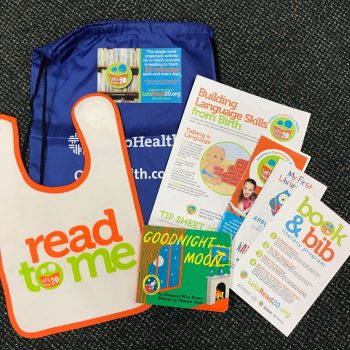 Through this and other programs, Let's Read 20 hopes to make a significant positive impact to literacy rates in Marion County. Research has shown how important early childhood literacy is to successful lifelong learning, and local efforts are now focused on reaching kids before they start school, even before they leave the maternity ward.
#MarionMade! #WeAreReaders