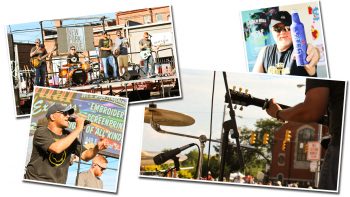 3RD THURSDAYS.
.
Summer time is always a great season for evenings spent soaking up the sun with friends. Brian Jester, owner of JCR Studio, had an idea to do just that in the heart of the city, in downtown Marion.  Jester shared his idea of a night filled with music and community with Robert Bear, a board member of Downtown Marion, Inc. Together Jester and Bear developed a plan and, with the help of the Popcorn Festival committee and Downtown Marion, Inc., we now have 3rd Thursday.
.
After a successful season, averaging over 200 guests each month in 2016, 3rd Thursday made its way back onto the Downtown Marion, Inc. calendar for 2017. This year the musical line up has included Bad Influence, New Park Drive, and Cherry Blonde.
.
Clarissa Myers, Downtown Marion Manager, states, "This event is growing each month and we are looking forward to our final band of the season, Sneaky Pete and the Players. Each month, 3rd Thursday is filled with local vendors such as State of the Sandwich, Tackett's BBQ, and Riverside Ice Cream. IHeart Radio and Blue Fusion also attend and give away free prizes."
.
Saturday In the Park has been another great addition to the event, providing crafts and face painting to keep the kids busy and having a fun time.
.
When Jester was asked why he felt a desire to bring this event to downtown Marion, he said, "I'm involved in this project because I want to give back to Marion."  He went on to reference the challenges Marion and so many other communities have faced in recent years with the opiate epidemic and said, "I wanted people to see that Marion can and will be a place of fun and enjoyment."
.
#MarionMade #WeAreEntertainment #WeAre3rdThursdays