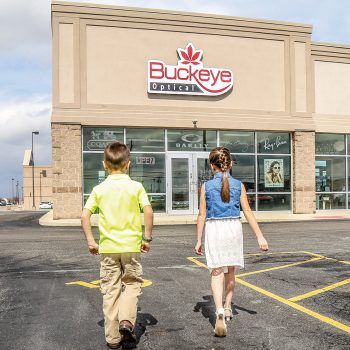 TENACITY AND GOOD CUSTOMER SERVICE FUELS DREAM.
.
Over 10 years ago, Jeramy Donelson was a licensed optician at a big box store in Marion. Terrible hours, lack of control, and the corporate push to see as many customers as possible pushed Jeramy to the realization that it was time for him to leave his job and pursue his own business. The first step was to put together a trustworthy team. In February 2006, Buckeye Optical officially opened at 163 Jamesway with Jeramy, Dr. Kelly Bruch, and CJ.
.
The road to becoming Marion's premier eye health provider wasn't easy. Time after time, Jeramy risked everything to pursue his dream. He put it all on the line, "I maxed out the equity on my house, my credit, and asked the bank for more, until I was denied another penny. I took the biggest risk of my life."
.
Starting small, the business strategy was simple: Jeramy was to handle the retail/material end of the business, while Kelly was to oversee eye health and patient care, with a mission is to provide a friendly, personal alternative to big box stores. Not long after opening, the team at Buckeye Optical realized that they were outgrowing their facility. In 2010, they found the perfect place.
.
Working 12-16 hour days, the Donelson and Bruch families grew even closer. Looking back on their hard work, Kelly remembers the events of one night specifically, "We worked all day at the Jamesway location. After work, we took a U-Haul down to Cincinnati to get most of the furniture for our new space. I remember driving back at 2 a.m. to unload everything, and then working early the next morning."
.
After six months of blood, sweat, and tears, they were ready to open. Whether you're looking for a new pair of glasses, quality preventative care, a thorough exam, or just to stop in and say hello, you can find Jeramy, Dr. Bruch, and the entire Buckeye Optical team at 150 McMahan Blvd.
.
Article content edited from story supplied by Family Values Magazine. To read this story in its entirety, visit www.familyvaluesmagazine.com
.
#MarionMade #WeAreBuckeyeOptical