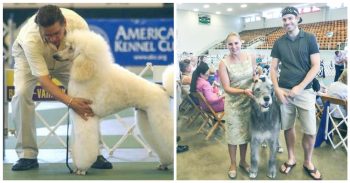 MARION'S DOG DAYS OF SUMMER.
 .
Every summer at the end of July, the Veterans Memorial Coliseum goes to the dogs–literally. For nearly 60 years, the American Kennel Club (AKC) Dog Show has loyally returned to the Fairgrounds to host this regional event. Combining clubs, the Dan Emmett Kennel Club (DEKC) and the Marion County Kennel Club work together to bring hundreds of dogs and their owners to Marion to strut their stuff.
 .
Had a ruff day? Sniff around the Coliseum during the show and watch as dog fanciers' work their tails off to make their best friend look quite fetching for the judges. It's quite the sight for kids to see and dog-lovers to experience how each and every breed is appreciated.
 .
The AKC Dog Show is a big contributor to Marion's economic impact, attracting up to 2,000 trainers and their pups–tripling their attendance since their first show in 1958. These trainers not only come for the competition, they come for the destination. The evenings are the trainers' opportunity to unleash and have fun themselves in Marion's restaurants, shops, and attractions or a chance to take a walk with an old friend at the Marion Tallgrass Trail.
 .
Places such as Marion have a way of making you feel at home. And when you're the best of friends having so much fun together, you're not even aware you're such a funny pair in an unfamiliar place.
 .
#MarionMade #WeAreDogShows