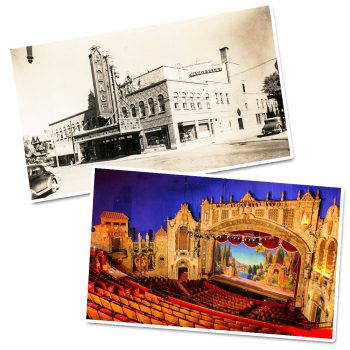 THE MARION PALACE THEATRE.
.
For some time, Downtown Marion has been said to be the heartbeat of Marion. Many would say that heartbeat began in 1928 when John Eberson designed and built the Palace Theatre. This magnificent theatre remains an anchor in downtown Marion and hosts more than 65,000 guests each year.
.
Today, the Palace operates under the direction of a board of trustees. Currently, Bev Ford, who started at the Palace in 1998 as a part-time ticket office agent, serves as the Executive Director. When Ford began working for the Palace, she was simply looking for a little extra income. After one year, Bev was promoted to Marketing Manager. After her second year, Ford was again promoted to Director of Theater operations and, in 2011, became the Executive Director.
.
The Palace Theatre has overcome many setbacks since it was first built in downtown Marion. After some years of hard use and neglect, in 1975, a group called the Palace Guard joined forces with the community and raised funds to purchase and restore the Palace. The love of the Palace was strong and, in 2008, the addition of the May Pavilion was realized, again through community support. Then, in 2013, it was discovered that the structure steel was failing and the front facade was deteriorating. A fundraising campaign was introduced and the community responded once more. Not only was the façade restored, but a new digital marquee was unveiled to the applause of the crowd.
.
The Palace is a great addition to our community due to its economic value and the experiences it shares with both its audience and performers. Sometimes the results of these shared experiences are life changing. According to the American's for the Arts Economic Impact Calculator, in communities the size of Marion, every person who attends an event at the Palace is spending on average $22.50 in addition to the price of their ticket. This adds up to spending more than $1.4 million in our community.
.
Last year, The Palace had more than 8,000 volunteer hours–the equivalent of a $188,000 donation. The Marion community has proven time and again that it is willing to do whatever it takes to preserve this landmark to be enjoyed for generations to come.
.
#MarionMade #WeAreThePalaceTheatre