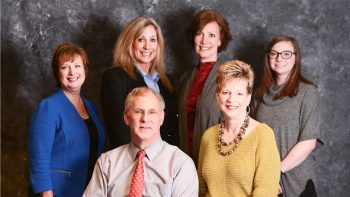 The name
George Alber
is at the heart of the MarionMade! mission with thousands of Marionites benefiting each year from his philanthropic legacy. Now, that legacy is reaching every corner of Ohio and beyond, thanks to the work of The Ohio State University's Alber Enterprise Center.
.
Chartered in 1996, Alber Enterprise Center bears the Alber name as a tribute to one of Marion's most notable philanthropists, who credited much of his success to his Ohio State alma mater. The Center carries on Alber's entrepreneurial spirit and can-do attitude, serving as a problem-solving, economic catalyst for businesses and organizations throughout the Buckeye State.
.
"With Mr. Alber's love of the Marion community and Ohio State Marion, it was only fitting to commemorate him by naming the Center in his honor," explains Greg Rose, dean and director of The Ohio State University at Marion. "At the same time, we want people to know that the Center operates independently from the Alber legacy funds. We're proud of that fact and believe George would be as well."
.
Known as an "earnings center," Alber Enterprise Center is housed in Maynard Hall on the Ohio State Marion Campus. It has the distinction of being the first campus-based economic and workforce development resource center in Ohio, and was created by a joint venture between the State of Ohio and Ohio State University Extension. Its goal? To accelerate business growth throughout Ohio's North Central region.
.
In its infancy, the Center focused on providing training to area manufacturers. But, as the local landscape transitioned away from an industrial footprint, so has the Center's work. Now in its 21st year, the Center focuses on delivering high-impact consulting services across nearly every industry segment and in every corner of Ohio.
.
"Marion is our home and always will be–we truly are MarionMade!," explains Myra Wilson, Alber Enterprise Center director. "We're honored to not only bear the name of George Alber; but, to be working here in Marion, with local businesses such as United Church Homes, Nucor Steel Marion, Sakamura, and others. We're proud to be MarionMade! in every way, from our name, to our hometown, to our offices at Ohio State Marion. And, we take that pride wherever we go."
.
The Alber Enterprise Center staff includes: Myra Wilson, director, and staff members Brenda Lehman, Alice Hutzel-Bateson, Kori Montgomery, Anne Johnson, and Gary Kuhn.
.
#WeAreMarionMade #WeAreAlberEnterpriseCenter