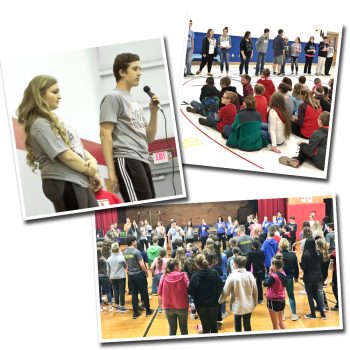 TEEN INSTITUTE.
Teen Institute has been around Marion County in one form or another since 1993. In fact, the very first Marion County Teen Institute Retreat was held in the spring of 1993 in Dayton, Ohio. That year, 43 youth and three adults spent the weekend learning about peer drug and alcohol prevention programs and a lot about themselves as people. In the spring of 2017, over 250 youth and adult volunteers gathered for the 24th Annual Teen Institute Retreat in Delaware, Ohio. Clearly, a lot has changed in the intervening years and we're not just talking about hairstyles and music.
One of the biggest changes is that Marion-Crawford Prevention Programs (MCPP) was incorporated as a non-profit agency in the spring of this year, forming an agency totally dedicated to the prevention of substance use among teens in the 2-county area it serves. For years, the services were delivered under the umbrella of other child serving agencies. After much consideration, many caring adults gathered together to form a board of directors and submit paperwork to be an official entity. Marion Crawford Prevention Programs, Inc. is funded by the Crawford-Marion ADAMH board through state funds and with local levy dollars. MCPP is the only certified prevention agency in Marion and Crawford Counties. Marion Crawford Prevention Programs has four full time staff with two staff focusing on Marion County.
Last year, the program served more than 4,500 youth through programs like Teen Institute, Junior Teen Institute, Freshman Empowerment Days, Prevention Not Punishment and other direct service programs. Marion County Teen Institute has a long history that has touched the lives of so many young people. Marion Crawford Prevention Programs also works collaboratively with other organizations on projects such as the local town hall meetings, Join the Front Lines, Parents Who Host Lose the Most and the Strengthening Families program.
Bringing young people together from different school districts, different interests, and different socioeconomic backgrounds is challenging. However, building those relationships within our community is critical. This process engages young people to help them understand the importance of being a contributing member of the community and helps them to understand how the community will ultimately benefit. Young people want to feel that their input is not superficial. Empowering youth and allowing them the opportunity to participate in the community has shown to benefit their development as well. When youth become engaged, they develop skills needed to be an effective leader. Youth who are engaged in community efforts show better problem-solving and decision-making skills compared to those who are not engaged. The development of such vital skills will serve youth in a variety of life endeavors. In addition to building leadership skills, engaging youth in the community also creates a sense of belonging and purpose for youth. When youth realize their voices and opinions are being considered, they will feel they are a true part of their community. Additionally, engaged youth have less traditional behavior problems. They are less likely to use drugs and alcohol, less likely to drop out of high school, and less likely to be involved in criminal behavior. Youth internalize responsibility for their actions and feel like they are held accountable by, not only their family, but the school and community as well.
The Marion community is a tight knit community where people are willing to support each other in a multitude of ways. Parents want their children to be involved in our prevention programs and contact us (often very early) about getting their children involved in TI. School districts are supportive of programming and appreciative of our efforts. Local churches provide us with free space to hold programs and local restaurants give us reduced costs to help feed students when they are involved in our programs. Students themselves encourage and recruit each other to be a part of local efforts. Marion-Crawford Prevention Programs is actively involved in the Ohio Teen Institute summer leadership conference. This conference brings together students and adults from around the state. Marion County is well represented at the state conference both in terms of staff members and student participants. Each year several students serve as members of the youth staff.
#MarionMade #WeAreTeenInstitute