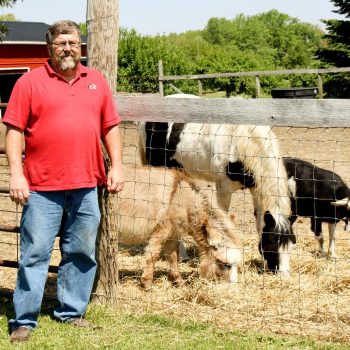 THE APPLE DOESN'T FALL FAR FROM THE TREE.
 .
With Lawrence Orchard's first apple trees planted by his Great Uncle Dale in 1923, George Lawrence continues to advance the family business almost a century later. After graduating from The Ohio State University with a Bachelor of Science in Agriculture and Horticulture in 1980, George partnered with his father on the farm before taking ownership 10 years later.
 .
"I was one of six kids and the farm was our playground growing up. Typical farm life," George chuckles. "The comforting memories of playing with the animals and helping dad pick strawberries and apples at a young age are what drew me back to the orchard."
.
Shortly after George partnered with his father at the orchard, he, his wife, and his youngest sister came up with the idea to invite their neighbors and customers to enjoy festivities at the farm as a way to say thank you. Applefest's first year, in 1984, drew a few hundred local friends and neighbors to the farm. Now, you'll find upwards of a few thousand friends and visitors from around the state.
.
Horse-drawn wagon rides, caramel apples, and old time music, are just a few of the things visitors enjoy at Applefest each year. Set on the last Saturday of September, Applefest is prime time to pick-your-own apples. Also, those who have never tried apple butter, the orchard hosts an Applebutter & Horseradish Day the last Saturday of October.
 .
Not only does Lawrence Orchards create fond memories, they preserve them, too. George's wife, Vickie, shares a love of horticulture and began to create preserved special occasion floral arrangements for the farm market. Customer demand took off, which resulted in Everlastings at the Orchard, a subsidiary of Lawrence Orchards. Being one in three floral preservationists in Ohio, Everlastings offers Keepsake Jewelry which is created with beads made from the flowers for any special occasion.
 .
Over the years, George and Vickie have vastly expanded the orchard's potential. Visitors can take a stroll through the orchard anytime during their seasonal hours from June through December. From fresh fruits and vegetables to Everlastings at the Orchard, the Lawrence family is full of homemade wholesomeness.
 .
#MarionMade #WeAreLawrenceOrchards