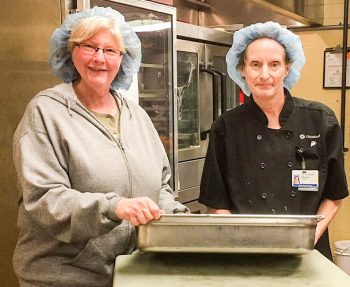 OHIO HEALTH SUPPORTS LOCAL NON-PROFIT ORGANIZATION IN NEED
OhioHealth recently extended a helping hand to a community organization in need. For more than 40 years, Mobile Meals of Marion County had cooked and prepared food for those in need within the kitchen of the United Church of Christ. When the church closed its doors to relocate, this left Mobile Meals without a "home". . . or a kitchen. As a result, they were forced to close their doors last October as the only local meal delivery service available to the residents of Marion and Marion County.
Fortunately, United Way of Marion County and the Marion Community Foundation teamed up with OhioHealth Marion General Hospital to re-open their doors, their business, and their mission.
Earlier this month, Marion General's Nutrition Services team began providing Mobile Meals with 40 hot meals a day from their very own kitchen, while volunteers with the nonprofit organization prepare frozen meals within their newly acquired space in the Ohio Heartland Community Action Center on Bellefontaine Avenue.
Mobile Meals can be reached at 740.382.1818 for meal delivery setup or information. Business office hours are 8am-1pm, Monday through Friday. Mobile Meals welcomes volunteers serving as drivers or helping to serve and pack meals.
#MarionMade #WeAreMobileMeals #WeAreHelping