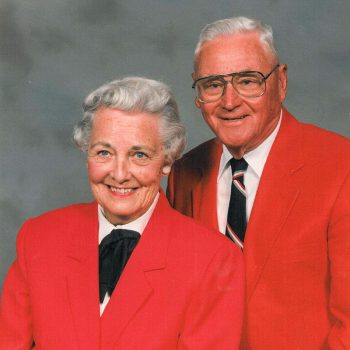 BOB & DOTTIE WOPAT.
 .
Operating under his lifelong philosophy to "never tell anyone how to do their job," the late Bob Wopat and his wife, Dottie, left an open-ended legacy to the Marion community. And, neither was a Marion native.
 .
Bob was from Missouri and Dottie from Nebraska; they first came to Marion in 1949 following Bob's career. They had no children and no heirs and so, in 2008, left a $17 million fortune with the Marion Community Foundation. (Bob and Dottie passed in 2008 and 2009, respectively.) This money created three funds–the Wopat Community Fund, the Wopat Scholarship Fund, and the Wopat YMCA Fund. The Community Fund is a grant fund that has supported community projects for nearly a decade, including the Palace Theatre, Marion County Special Olympics, Turning Point, Peace and Freedom Committee, Downtown Marion, and, most recently, MarionMade! The Scholarship Fund annually provides $100,000+ to the area's top students. And, the YMCA Fund helps support that organization's mission to the community.
 .
But, who were the Wopats? Bob held a degree in electrical engineering from the University of Michigan and made a career in the telecommunications industry. Having witnessed first-hand the technological advances from battery service and crank phones to the invention of the dial system, digital switching, and cellular technology, he knew the inevitability of change and created a means to provide funds open and available for ever-changing community needs.
 .
Bob's career included service in World War II as a Naval officer and specialist in magnetic and acoustic firing devices. In 1964, Bob became president of GTE's Ohio Operations, a position he held for 16 years until his retirement in 1980. He enjoyed woodworking, gardening, and was an avid golfer. Bob was a Rotarian and served on the Board of the former MedCenter Hospital and as a director of National City Bank.
 .
The Wopats married in 1940. While she held a teaching degree from the University of Nebraska, Dottie's life was devoted to supporting her husband and his career. She was known as a keen Bridge player at the Marion Country Club and enjoyed floral design and dance.
 .
#WeAreMarionMade #WeArePhilanthropists