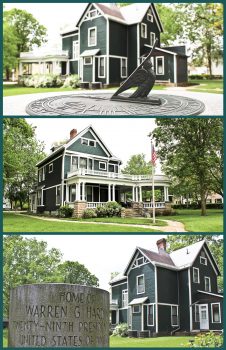 THE HARDING HOME
There is something about the home of a famous person that lets us feel like we are getting the chance to go beyond the public persona and see a glimpse of the real person. Such is the case with the Harding Home in Marion. The residence of Warren and Florence Harding from 1891 to 1921, the home and its famous front porch, are certainly iconic. The green painted siding with white trim speaks to a different time in history. The massive front porch with its impressive tiled floor and prominent round center elicit thoughts of the historic presidential campaign that took place there in 1920.
But, beyond the home's connection to the 29th president and its status as a national landmark, the Harding Home is also a glimpse into everyday life in Marion 100+ years ago. As interpreted by manager Sherry Hall and her staff, the Home comes to life through stories and objects during guided tours. Visitors learn about Harding's love for his community, how Warren and Florence met, and, of course, that famous campaign in the front yard. Before Harding's run for the presidency and thousands came to Marion to hear his campaign speeches, the parlor would have been filled with local friends and business associates. A copy of the Marion Star was always close at hand there or in the library. As Hall likes to describe, a visit to the Harding Home is like walking in a few minutes after Warren and Florence have left–it feels just like they still live there.
First opened as a museum in 1926 under the authority of the Harding Memorial Association (HMA), the Home is now part of the Ohio History Connection's statewide system of historic sites and is locally managed by Marion Technical College. The HMA restored the home in 1965 to its appearance in 1900.
The Harding 2020 project, which includes a new library/museum behind the home, will also see a second restoration–this one interpreting the home as it was in 1920 during the campaign. As we approach the centennial of Harding's election as president and the Home's presence as one of our community's most enduring structures, we are reminded of just how fortunate Marion is to be one of few cities in the country to lay claim to being the hometown of a president and to be able to not only point to the place where it all happened, but to walk through his home and know that the history made there is part of the ongoing story of our community.
#MarionMade #WeArePresidential #WeAreHistory