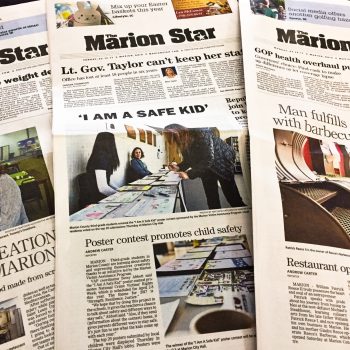 FROM THE DAILY PEBBLE TO THE MARION STAR.
The long history of The Marion Star dates back to 1877 when it was known as The Daily Pebble. It grew quickly after its start and in the 1880's it became known as The Marion Daily Star. Around that time,
and prior to his presidential race, Warren G. Harding and his wife owned and operated The Daily Star. Today, we know the local paper as The Marion Star. It is currently owned by the Gannett Company and edited by Thomas Williams.
Williams was an Ohio boy most of his life. With family roots in Marion, Williams has fond memories of visits with grandparents and uncles. After living in the Chicago area for 8 ½ years, editing The Marion Star became an opportunity Williams decided to take. When asked what drew him back to Marion, Williams states, "I was impressed by the energy both civic and non-profit organizations shared."
Under Williams, the local news and providing relevant information lays at the heart of the Marion Star, whether that news be in paper or electronic form. Moreover, The Star stays up to date nationally and is one of ten papers in the nation that is part of The USA Today Network. This gives The Star readers a full range of reporting from national news to updates from the Ohio Statehouse to regional state high school sports.
In addition to reporting the news of Marion County, The Marion Star always makes efforts to give back. Twice a year The Star has the privilege of awarding a Gannett Foundation Grant. Meals on Wheels and United Way were the 2016 recipients and we look forward to hearing who will receive the award in 2017.
#MarionMade #WeAreNews #WeAreTheMarionStar