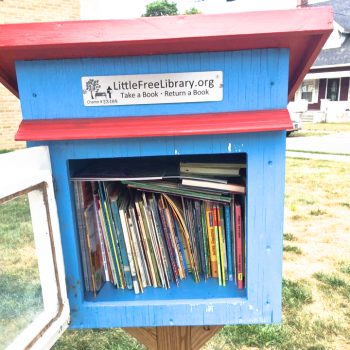 LITTLE FREE LIBRARY
Did you know there are little libraries all over the city? Little Free Library that is.
Little Free Library is all about building community, sparking creativity, and inspiring readers. If you look closely as you travel some of the side streets of Marion, you will find a small library offering free books located in someone's front yard right in your neighborhood. The small, creatively-painted boxes, who sport names when registered on the littlefreelibrary.org website, offer a give and take system. If you take a book, it would be great if
you left one you have already read for someone else to read. This does not always happen, especially if your Little Free Library is located near a high concentration of children.
This past summer, the Marion Altrusa Club dedicated a Little Free Library just outside the front doors of the Marion Boys & Girls Club. The Altrusa women have committed to keep books stocked in the container in an effort to put books in the hands of those who may be lacking access to them. The Altrusa club had the library built by the Marion Corrections prisoners and donated the materials and labor to get it posted just outside the Boys & Girls Club front door.
You can find additional Little Free Library locations at the Marion YMCA, United Church Homes on Center Street, and a number of front yards throughout Marion. Go to LittleFreeLibrary.org to learn more.
#WeAreVolunteers #WeAreRaisingReaders