MarionMade! is about loving where you live–and, loving the people, places, products, and programs that make Marion a vibrant community. One group of people who are proud to serve the community are our public and elected officials, many of whom serve the communities of Marion County in these roles above and beyond their family and career obligations. MarionMade! offers this series of feature stories on local officials as a way to get to know those who serve us better.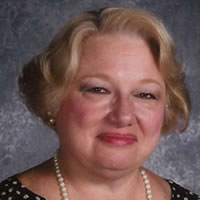 My name is Rebbeca Gustin. My friends and family call me Beckie. I am a retired Marion City Schools teacher of 35 years, and am currently serving on City Council. I was born and raised in Marion, by two wonderful parents–Emmett and Jean Ledford. Their families originally came to Marion in the 1940s for blue collar jobs that were abundant at the time. I have three siblings who moved away from Marion to live with their spouses, all of whom were from out-of-town.
I am married to Barry Gustin, also from Marion. We have been married for 47 years. We have two lovely daughters, Ashley and Page. Ashley and her family live in the Columbus area, and Page recently moved to Pennsylvania to live with her new husband. I have a 20-month-old grandson named Emmett, whom we adore.
I love Marion. We have wonderful history, caring people, and I have a feeling of security and being at home here. The people in my neighborhood have become friends over the years. We look out for each other's well-being, as well as keeping an eye on each other's houses when needed.
Marionites take on any problems and projects head-on. That is why I believe in Marion. We can work together and accomplish anything.
My favorite hobby is traveling, especially near or on the ocean. I also like going for drives around Marion and stopping for a picnic. A little known fact about me is that I am nicknamed "The Laundry Queen," as I can get stains out of almost anything. I also love to go grocery shopping.
#MarionMade #WeAreServingOurCommunity