BUILDING BRIDGES OF UNITY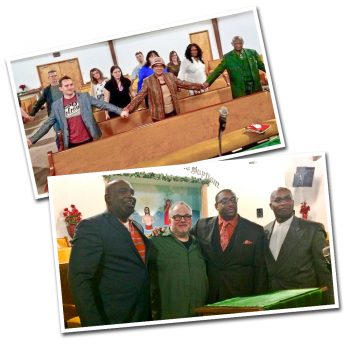 Two local pastors have come together to start some new conversations in the Marion community when it comes to unity in the midst of racial diversity within the local church. Pastor Corredon Rogers from Christ Missionary Church and Pastor Tom Hypes from The Shepherd's Fellowship are collaborating on a new venture called Building Bridges of Unity.
The first event of this new effort was hosted by Bishop Draper and Mt. Zion Baptist Church, where church goers of these two churches met for food, fellowship, and discussion. After sharing a meal together, those attending moved into the gathering room. Pastor Rogers and Pastor Tom shared the history of how this vision was born and goals of fostering unity within our church families and the community at large. The floor was opened to allow the participants to share their thoughts and hopes for unity within the community. There was a great range of input as people from a variety of backgrounds shared their hearts for understanding and relationships.
One of the African American gentlemen shared some great thoughts on being able to listen to one another's perspectives to gain understanding. As he shared about listening to one another, he said, "When we receive, we grow."
This is a great truth these discussions are clinging to. This was the first of many nights that are being planned with these two churches for additional fellowship, discussion, and worship. This group is also working on future events for the whole community that will be coming soon. To learn more or to stay in the know about these upcoming events, you can follow the Facebook page for Building Bridges of Unity for Marion, Ohio.
#MarionMade #WeAreBuildingBridges