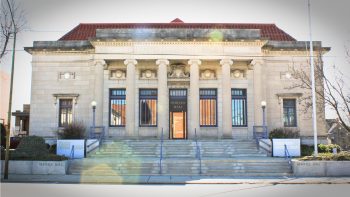 MARION COUNTY HISTORY ON DISPLAY FOR ALL TO SEE
Originally the Marion Post Office, the building that sits on the corner of Church and State streets is better known today as Heritage Hall. Opened to the public in 1910, the beautiful neo-classical design shows off the style of the early 20th century perfectly.
The Marion County Historical Society (MCHS) purchased, remodeled, and renamed the building Heritage Hall in 1989. The former mail sorting room, now the atrium area, is the major exhibition space for the Marion County History Museum. The main floor of the 1936-1937 addition is occupied by the Wyandot Popcorn Museum. The lower level of the building contains the Harding Presidential Collection, Industrial and General Store exhibits, a resource center and an archives office, an auditorium, and archival/artifact storage with over 30,000 objects.
MCHS is vital to the preservation of Marion County history and educating our community. Every year, educational programs are presented to Marion City and County Schools, as well as Boy and Girl Scout Troops.
Both a History of Marion County Resource Guide and an activity book have been developed and given to all 3rd grade teachers in Marion City and County schools to assist in teaching the mandated history curriculum.
MCHS has done much to preserve the history of Marion County such as the Linn School tours, Heritage Hall and Wyandot Popcorn Museum experiences, the 1852 Cabin tour at the fairgrounds, Natural History tours, and the Blast from the Past summer program; none of which could be possible without the volunteers and donors from the Marion community.
Going far beyond the borders of Marion County, MCHS has presented education programs to institutions in Shelby, Morrow, Delaware, Hardin, Franklin, Allen, Crawford and Wyandot Counties. They have also published, reprinted, contributed research to, and reviewed books and magazines that are distributed across the country. On top of printed material, MCHS has also assisted with TV features on the Food Network, The History Channel, PBS, and even a German TV special. All of this helps to educate people on the rich heritage or Marion County, the world over.
#WeAreHistory #WeAreLearning