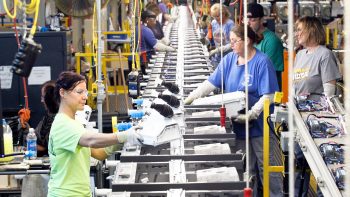 MARION-MADE FOR A GLOBAL AUDIENCE
Whirlpool Corporation is the number one major appliance manufacturer in the world, marketing their brands—Whirlpool, KitchenAid, Maytag, Amana, and Jenn-Air, among others—in nearly every country throughout the world. And, 4.2 million dryers that they manufacture annually come from the hard-working people of Marion, Ohio.
"People are our number one resource," said Jim Campbell, Marion Whirlpool's engineering manager.
In 1955, when the local plant opened, it had 235 employees and produced 300 dryers. Now, the Marion plant employees 2,500 and produces 20,000 dryers daily, around the clock on three shifts and nine assembly lines.
Many of the employees have decades of continuous service—about 1 in 4 have worked here at least 20 years; and, the longest-serving worker, 52 years. It is not uncommon for up to three generations of local family members to be working side-by-side at Whirlpool in Marion.
"If you talk to people in Marion, they'll say my grandson works at Whirlpool, or my grandfather worked there. You don't hear that much anymore," said Vice President Jim Gifford.
This is more than just an assembly plant. Many of the parts are fabricated in-house.  They are in the process of installing a $10.5 million wind farm to offset about 20 percent of its electricity needs. The plant is a leader in using robotics systems for advanced manufacturing processes.
Campbell stressed the company's commitment to Marion and noted its community involvement ranging from United Way participation and Habitat for Humanity projects to scholarships for children of employees.  Employees marked the 60th anniversary of the Marion plant in 2015 by raising and donating $10,000 to the Marion Tallgrass Trail. In conjunction with the wind power project, Whirlpool is adding a new scholarship, via Marion Community Foundation, open to all area students pursuing careers in science, technology, engineering, and mathematics, with emphasis on those attending Ohio State Marion and Marion Technical College.
#WeAreManufacturing