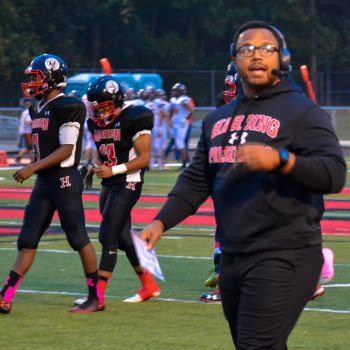 Harding High School has a new head football coach, and he's making history. Jerrod Slater, head football coach, and graduate of Marion Harding High School, is the school's first African American head coach.
Slater's love for football started when he was in second grade.  A former standout running back and nose guard for the Presidents, he grew up playing in the Tim Hinton coaching era, and learned all about discipline, hard work, and commitment.  Slater has implemented these traits into his everyday life, and now into the lives of the young men that are a part of the program. He has loved football his entire life, but his love for coaching stemmed from the coaches he had the years he played. He understands, from personal experience, the far-reaching impact coaches can have on players' lives and hopes to leave that same kind of impact on young lives he is coaching.
After graduating from Harding in 2005, Slater played four years of football at Urbana University while studying to become a teacher and coach. After playing football and spending a year as a graduate assistant at Urbana, Slater was hired by Aaron Cook to be the freshman football coach at Pleasant High School and, later, a varsity assistant. Slater also served as outside linebackers coach and assistant head coach/defensive coordinator during his tenure at Pleasant.
Before the 2014 season, Slater got a chance to return to his alma mater, Harding, and be reunited with his former coach, John Brady, who was in a second term as head football coach. Slater spent four seasons as an assistant coach at Harding where he served as defensive backs coach and defensive coordinator. He has been a part of a coaching staff that has seen the team improve from 0-10 in 2014 to the current 6-4. When Brady retired after the 2017 season, Slater jumped at the opportunity to fulfill his coaching dream.
As the new football coach, Slater said fans can expect to see a team that is committed to its community and that is going to work tirelessly to be successful on and off the field. He plans to instill qualities that helped him in his football career and life — accountability, discipline, hard work, and sacrifice.
"These are the things that will help players go on to be better students, sons, brothers and, eventually, fathers and husbands," said Slater.
Not only has Slater made a name for himself as Harding's new football coach, but, in early March, he received the Education Award from the Black Heritage Council. This award is given annually to someone within the community who is impacting the education of Marion youth. Slater has worked for the Marion City Schools as a teacher and guidance counselor since 2014. He is also the district's Diversity and Equity Coordinator.
"This is absolutely a dream come true," Slater said. "As a graduate of Harding, this program, this school and this community have meant everything to me. When I set out to become a football coach in 2009, the end goal was always to become the head coach here at Harding High School. I am ready and eager to get to work. I am extremely blessed and I can't thank the district enough for believing in me."
#WeAreMarionMade #WeAreEducation #WeArePresidents