The volunteers running the Leapin' Outreach Center are working diligently to open a 100-bed shelter for homeless men and women in Marion. They are asking local volunteers and donors to step up and help complete this project.

"We're doing workdays on the third Saturday of each month," said Regan Hensel of Marion. "We could really use all the hands we can get."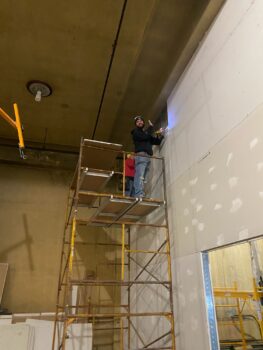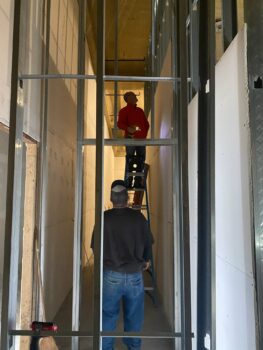 This December, volunteers built walls and installed drywall. Several local churches and companies have adopted women's sleeping rooms.

"Right now, we are trying to get all of the walls built. We have drywall to hang. If we could get a drywall finishing crew, that would be amazing," Regan said. "Everyone can help. If you are willing to learn, we will teach you! Monetary donations could be used to hire some of the work that needs to be completed, especially technical jobs including plumbing, electrical, and HVAC projects."

Those wanting to volunteer can show up on the third Saturday of each month from 8:30 a.m. to 4:30 p.m. at Leapin'.

"Volunteers from Marion City Schools came in and did drywall in the kitchen and cafeteria. Several local construction companies have also contributed time," Regan said.

Leapin' started 19 years ago as a nonprofit organization to provide clothing for those in need. The current location is at 150 Court Street, the former offices of The Marion Star. The clothing center is on the first floor and the second floor is being renovated for the shelter.

"What really tore my heart was a guy who just got out of prison. He said, 'I don't have any place to go.' I said there's a homeless shelter in Marion. He said they are full. I mentioned some other places and he said they are full. He sat down and started crying and I started crying," Patricia Hensel, Regan's wife, said. "God, we have to do something. There are too many people who need a place to rest their heads at night."

While the need is great, the obstacles have been challenging.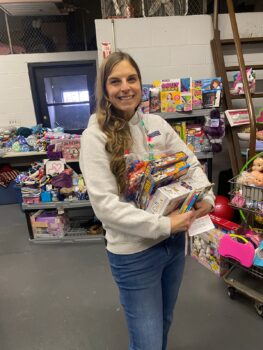 "It took us almost two years to get all of the architectural drawings done and approved. COVID hit and put us back about a year and a half," Pat said. "We just cannot get the hands. Everyone says it's great what you're doing – but we can't do it by ourselves. We're struggling to get the volunteers needed to move this project forward. This is a community outreach center. We're just putting the word out to the individuals in Marion to come and help us get this shelter done so we can open the doors to the people who need it."

Leapin' currently serves more than 2,000 registered Marion County families. The homeless shelter is another way to serve those most in need.

"We want to provide for the homeless and help them not be homeless," Regan said. "I was hoping to be done by this winter, but it's in God's timing."

"We have put this in God's hands. When God guides, God provides. We want to share God with these people and pray with them. That's our goal – to get them out of the situation that they're in with God's help," Pat said.

Leapin' recently provided Christmas gifts to 187 local children. Leapin' is closed over the holidays. It reopens on Jan. 3, 2023. Leapin' accepts donations on Tuesdays from 4:30 p.m. to 7:30 p.m. and Thursdays from 9 a.m. to noon. They ask donors not to leave donations outside.

Needed items include new or gently used clothing, especially for children ages five through 18; practical housewares such as blankets, sheets, towels, pans, and small kitchen appliances; new or gently used toys and books; and personal hygiene items. Leapin' cannot accept furniture, large appliances, or decorative items.
Volunteers for both the clothing donations and the homeless shelter are desperately needed. Anyone willing to donate time should show up when Leapin' is open, visit the Leapin' Facebook page, or email leapinoutreach@gmail.com.