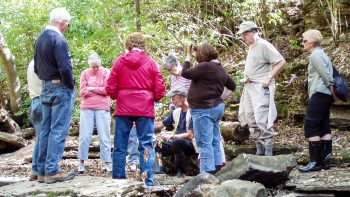 The Learning Enrichment Institute (LEI) provides an opportunity for individuals 50 and older to broaden their experiences through a schedule of short, non-credit courses that promote creativity, free thinking, and personal growth and development. The program is a partnership between The Ohio State University at Marion and Marion Technical College and was established in 2006.
Over the past 11 years, LEI has provided over 500 unique courses to more than 600 community participants. It offers two terms (autumn and spring, each lasting approximately 5-6 weeks) of programming each year that meet the diverse needs and interests of adults 50 and older.
Faculty and staff from both campus institutions make up a large number of our instructors. However, many of the instructors for these specialized courses come from the Marion community. Presenters from local establishments including the Marion Public Library, Marion County Park District, Carousels and Carvings have willingly donated their time to share their knowledge with our participants.
Although most of our LEI participants come from Marion County, we are starting to pull more from outside of our area, bringing more people to our community to experience something positive. Instructors from across Ohio also participate, bringing in speakers and specialists from many disciplines and backgrounds.
LEI is a community service/outreach effort modeled after more than 600 successful "elderhostel" programs across the country. It belongs to the official Road Scholar Institute Network. It is living proof that learning never stops and the Marion community is lucky to have such a gem.
#MarionMade #WeAreLearning #WeAreTheOhioStateatMarion #WeAreMarionTechnicalCollege