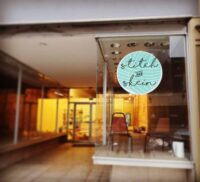 When Ann-Marie Duff said, "If I find myself becoming lost in a good yarn, then I feel certain that others will, too," she could easily have been talking about Candice DeWitt and her passion for her new yarn shop, Stitch & Skein.
"As I've gotten older, I've learned more and more that I'm a highly sensitive person. I think it's why I'm drawn to yarn so much," said DeWitt. "It's soft. Quiet. Undemanding. Always there for me when I need a moment of quiet. Many studies have been published that show knitting helps to manage chronic pain, improve cognitive function, and even increase happiness."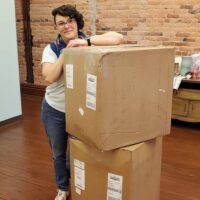 The idea of opening a shop to share her love for knitting and fiber arts with kindred spirits began to take shape while attending business classes at Marion Technical College. She honed her business plan by submitting a competitive analysis for her then-future yarn shop as a class assignment.  Not only did she get an "A," but her professor, Scott Hughes, commented, "I would be interested in following your journey if this is a real thought."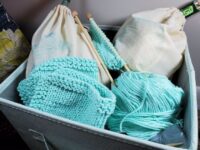 That thought became reality in February when Stitch & Skein opened at 144 West Center Street in downtown Marion. The store was packed with yarn, knitting needles, crochet hooks, and embroidery kits, as well as local fans and visitors from as far as Columbus and Mansfield. Prior to opening the brick-and-mortar store, Stitch & Skein's Facebook page already had 1,000+ fans eager to see her succeed, including one who suggested the name for the store.
The shop is a family business, with husband Sean helping to build the checkout counter and displays, as well as the website. He also helps with inventory, like her first order – 108 pounds of yarn in 570 skeins and balls! Their young son, Declan, is eager to learn the cash register and engage every visitor in conversation — and not always about yarn.
The family in the business also includes her late grandparents. "The shop wouldn't have been possible without my grandparents," said DeWitt. "I have hoarded my inheritance money for years because nothing felt like it was worthy to use it on. But, this shop…felt different. I really can't help but feel like my grandparents approve and were telling me it was a good thing to use their money on based on how little reservations I had on investing in this little place."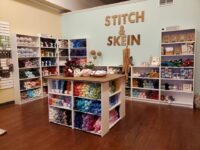 Her investment is looking to be a good one, with visitors singing the shop's praises online.
"Today, I visited the new yarn shop Stitch & Skein in Marion," said Stephanie Krammes Parsons in a Facebook post. "So many fun things! I got counted cross stitch kits to do with my girls, and some cotton to teach them knitting dishcloths, plus some sock yarn, yarn for a hat, and a faux fur poof ball for me! I'm up to my eyeballs in crafting goodness!"
Stitch & Skein is open Thursday and Friday evenings, 4:30-7:30 p.m., and on weekends – Saturdays 10 a.m.-5 p.m. and Sundays Noon-4 p.m. Classes are still being offered virtually due to the pandemic, but DeWitt has space and plans for in-person classes in the near future.