From farmer to financial advisor, Kit Fogle, CPFA, puts his business savvy and financial management experience to work for his clients in Marion and surrounding areas. Born and raised just north of LaRue in Grand Township in the western part of the county, Kit continues to operate the family's grain farm which is now over 1,000 acres. Now in its 3rd generation of traditional family farming, the Fogle farm produces corn and soybeans and is managed day-to-day by Trevor Fremont. Kit said he proudly buys all of his inputs locally and sells grain to Marion area businesses.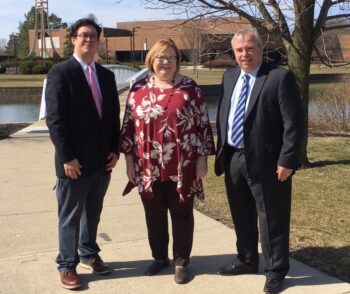 Fogle attributes much of his success in the financial planning industry to his mentors, including Judy Lewis (Kit's mother-in-law) and Ken Vincent. Kit joined Vincent's firm, Advest, in 2004 and a couple of years later, Merrill Lynch bought the company and he has been with them ever since. He has since been joined by two client associates: Robert Concepcion and Sylvia See.
While mentors are critical, Kit said, "After a few years, I became my own person, developed my own way of doing business with and for clients. It's important to learn from others in the field, but there comes a point when a professional needs to define themselves and develop their own style."
"I try to find out what the client's goals and purpose are (for investing and saving)," Fogle stated, "…then I can steer them in the right direction." Once that is determined, he assesses their risk comfort and time horizon. "In getting to know the person, I ask questions to determine how comfortable they are with risk in terms of investing for the future. Along with that is an understanding of their time horizon, or the number of years until they desire to reach the goal." All these factors allow Kit to construct a financial portfolio that is geared toward netting the funds desired to meet the person's goals within their timeline. "You need to plan to avoid outliving your money," states Fogle.
During COVID, the team has been working remotely and business is strong. In fact, Kit says productivity has increased during the work-from-home era for these financial advisors. "Maybe our clients are spending less during this time, and many have also been working from home," said Kit. With no big vacations to plan for and a shift in focus, many clients are reassessing their financial plan and purpose, and goals may have shifted. "I expect that when things really open up again, we may experience a sort of euphoric consumer spending frenzy as people are chomping at the bit to go and do things," stated Fogle.
Fogle tells new investors and young adults to start with opening a 401K or similar fund, and "pay yourself first."  That concept may mean that you're thinking of your future self, as opposed to right now. "The more you can save when you're younger, such as in your 20's, the more those funds will compound down the road."
Growing up in Marion County, Kit's wife, Lori, graduated from Ridgedale High School. Both graduates of The Ohio State University, Kit and Lori Fogle have two daughters attending Ohio State: Abigail, an accounting major, and Alexis, a finance major.
For more information about Kit Fogle, CPFA, go to www.fa.ml.com/kit-fogle