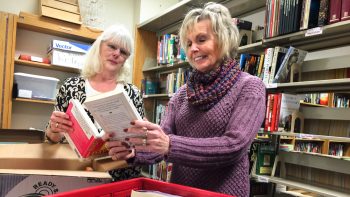 BOOKSMARKS THRIVE AT THE MARION PUBLIC LIBRARY WITH DONATIONS & VOLUNTEERS
Established as a nonprofit in 2015, the BookMarks support the programs and operation of the Marion Public Library. BookMarks is a membership organization that hosts a variety of events/programs each year, operates the BookMarket in the library, and lends support to library programs. BookMarks donations to the library have supported the Kids area and Local History Room renovations.
The BookMarks do their many activities with the generous support of volunteers. New volunteers are always welcome and opportunities are listed on the Library's website and on the United Way's volunteer listings. Volunteers plan and implement their annual events. They host a murder mystery in February, a book sale at the library in April, and Speaking Volumes, an author gala in the fall.
The BookMarket gift shop in the library could not be open without volunteers. The shop is filled with used books, fiction and nonfiction, children, teen and adult, DVDs, CDs, book-related sales items like tote bags, prints, bookmarks and socks and local artists created items. The goal is to keep the unique shop open the same hours as the Marion Public Library. So, if you or someone you know might be interested, please contact us.
Want to give back to Marion in a unique way? Think about joining BookMarks and having fun supporting the amazing Marion Public Library.
#MarionMade #WeAreBooksMarks #WeAreVolunteers