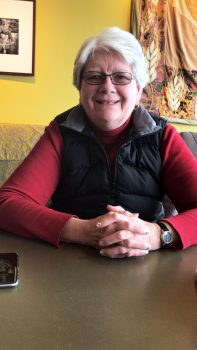 Can you recall your favorite memory with Mrs. Huffman, the elementary school phys ed teacher? How about Coach Huffman, the Harding High track and field coach? Or possibly you have a favorite memory with Coach Huffman, the former Harding cheer coach?
Cheryl Huffman, born and raised in Marion, attended Marion City Schools, later continuing her education and athletic career at Ohio State and Ashland universities.
Upon graduating, Cheryl returned to her hometown of Marion, where she decided it was her turn to give back and make a difference in the Marion community. Cheryl Huffman stands in the Marion Harding High School Athletic Hall of Fame and is recognized for the evolution of the high school girls' sports program many know and cherish to this day. An advocate for girls' sports, Cheryl started the Harding girls volleyball program, serving as head coach at both the middle and high school levels for 16 years. Cheryl also coached the Harding cheer team for five years, as well as the high school track and field team for 25 years, bringing home many conference championships, state appearances, and a State Championship title in 1983.
In addition to coaching in the Marion City School District, Cheryl also taught and coordinated the physical education program for a total of 37.5 years.
Asking Cheryl what made her decide to go into education and coaching, her answer is simple. The kids. Cheryl recalls growing up and organizing kickball games and jump rope competitions for her neighborhood kids. She's always had a passion for kids and athletics and figured what better than to pair the two together and teach physical education.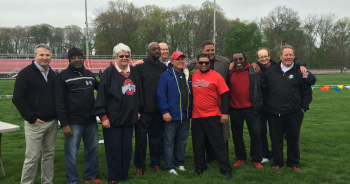 In 2007, Cheryl retired from Marion City Schools and decided to pursue her passion for the arts in the Marion community. She volunteers her time to a variety of organizations including St. Mary's Church, the Palace Theatre, and the Artisans Guild, to name a few. Cheryl and her husband, Mike, have served on the Marion Popcorn Festival board and committees for 12+ years and Cheryl is a current member of the MarionMade! Gala decorating committee. In her free time, she returns to her home school of George Washington Elementary, as well as McKinley Elementary, to volunteer and work in the kindergarten classrooms.
Cheryl describes her experience in the Marion City School District as enjoyable and rewarding. She explains how she looked forward to each day because no two were the same. Each day held a new experience and an exciting adventure. To her, the most rewarding part is being able to watch her nieces excel in athletics and take advantage of the opportunities female athletes did not have access to when she first started her mission. Cheryl also cherishes the memories and long-lasting relationships she is able to share with past students, parents, and teachers.
#MarionMade #WeArePeople