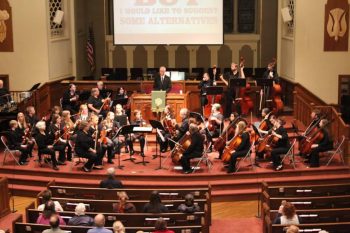 Believing in Local Music
Marion Area Orchestra (MAO) is an amateur string orchestra founded to provide a musical performance outlet for violinists, violists, cellists and bassists in the Marion, Ohio area.  Some of the volunteers are local school orchestra members and home schooled young people, but mostly adults numbering forty-three total people at this time.
MAO was a "pipe dream" of George Schram's for about 30 years.  He played trombone in the Marion Concert Band for over 50 years and enjoyed the musical outlet.  But having taught string orchestra in the River Valley and Marion City schools, it bothered him that former students who played stringed instruments had no ensemble in which to perform.  This gave birth to MAO and though it is a string instrument only group now, some day it may add winds and percussion and evolve into a symphony orchestra.
MAO had its first rehearsal on September 1, 2016 at River Valley High School.  They now rehearse at Grant Middle School with the intent to present a couple of performance a year in the community.  In the past two performances, to honor local veterans, were held at Marion First Presbyterian Church. MAO also paid tribute to volunteers from Marion General Hospital with a performance at the Palace Theatre.  Last spring the performance featured the Marion Music Club Chorale and local artist, Beth Cumbie, flutist at River Valley High School auditorium.
They have two more performance scheduled at the River Valley auditorium on November 18th and in the spring on May 5th.   You can find out more about these programs by following their Facebook page.  
#marionmade   #WeAreMarionAreaOrchestra    #WeAreMusicians