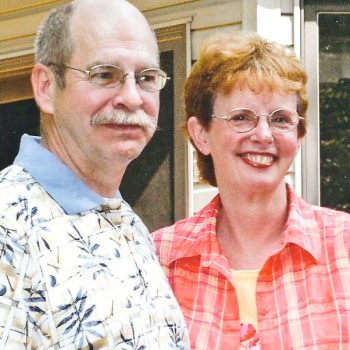 THE SUTHERIN FAMILY.
A love for the Marion community has been the hallmark of Jim and Gayle Sutherin for the past 42 years. Jim, Gayle, and their two daughters, moved permanently to Marion in 1975 after six years of Navy life. Jim worked as an engineering technician for Floyd Browne Associates (FBA) for 45 years.  Gayle also worked for FBA off and on during those years and finally retired as a church secretary from Emanuel Lutheran. During their time in Marion, their love for the community and friends grew. Their hope to help Marion in some small way also grew.
They became members of First Presbyterian Church and, through Carol Penrod, then Director of Love In The Name of Christ, they became involved with Love INC. When Love INC started the Hauling Hope furniture ministry, First Presbyterian Church, along with three other churches, became involved. Jim, as well as many other members of First Presbyterian Church, have moved numerous furniture items to and from homes in Marion County.
In 2012, Jim & Gayle established the Sutherin Family Eye Care Fund through Marion Community Foundation. Jim's mother had extreme eye issues and they wanted to be able to help others with eye problems to be treated through Marion's Center Street Community Health Center.  Gayle has been a Hospice volunteer since 2007 and has had the blessing of aiding not only Marion General (OhioHealth) Hospice patients, but also their families who are struggling to deal with the process of losing a loved one. Gayle considers this to be very rewarding.
Jim and Gayle are still very active members of First Presbyterian Church. Their church family has been a vital part of their lives while serving as Elders, Deacons and Trustees. These ministries have given them a true perspective of their role as Christians. Through Jim and Gayle's involvement in church, community organizations, work, and the Foundation, their lives have made and continue to make a difference in the Marion community.
#MarionMade #WeAreVolunteers #WeAreWorkingTogether #WeAreCommunity