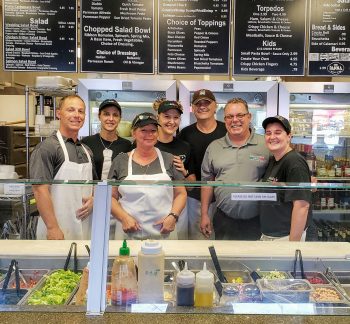 Joe Sansotta started in the restaurant business on his 16th birthday.  Now approaching 40 years of experience, he has a loyal following for his latest restaurant, Sansotta's Fresh Italian.
Joe attributes his success to being born and raised in Marion.
"I worked at Western Sizzlin' all through high school, as well as at several Marion pizza shops," Joe said.
In his early 20s, he sought his fortune in Florida—and found it in his wife, Terri.  Joe continued to work for the Western Sizzlin' chain, but when the children started coming, Terri declared it was time to move "home" to raise the family. Home, of course, meant Marion.
Five years ago, Joe opened the restaurant that bears his name. The concept for Sansotta's came from seeing the success of other custom-order fast food restaurants like Subway, Chipotle, and Piada, but with his hometown flair.  Sansotta's offers salad and pasta bowls—as well as pizza—that his staff customizes on the spot with vegetables, cheeses, and toppings according to customers' wishes. The pasta carbonara bowl is their number one seller.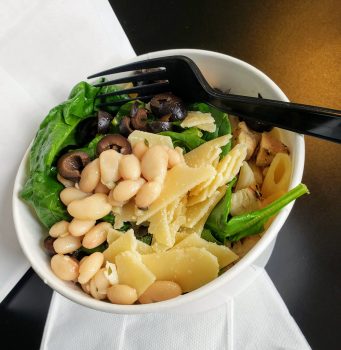 "It works very well for us," said Joe, as does the catering side of things. "Catering has really taken off and is a daily thing now averaging 3-4 good size orders daily."
At the recent A Taste of Marion competition, Sansotta's came away a big winner with an entry that featured items from his catering menu. The restaurant's offerings garnered both the Marion's Savory Taste Award and the people's choice MarionMade! Award with a homemade meatball and braised pork bruschetta combo.
"We had a cook-off at the store and that's how we decided on what to take to A Taste of Marion,"  said Joe. "I certainly didn't expect to win our first time in the competition. It actually brought tears to my eyes."
Through Sansotta's, Joe gives back to the community regularly by participating in dine-to-donate programs with area schools and providing dinner for each of the high school football teams at least once a season. He's also not shy about providing gift cards for area silent auctions and fund raisers.
"Being from Marion, it's important to me to give back to Marion as much as I can and to help as much as I can," said Joe, noting that his family and his employees are his source of motivation.
Joe and Terri, along with their children, Summer and Anthony, all helped to build the business—from rolling meatballs to doing the dishes. Even now, his grown children, who live in Lexington and California, will pitch in whenever they are home.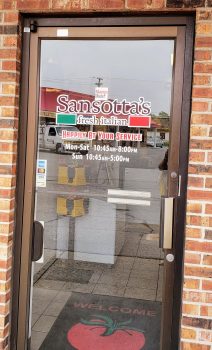 "They helped me open the restaurant and achieve my dream," he said. "And, I have great employees. I could never have achieved what we have with Sansotta's without all of them. I am so lucky to have what I have."
#marionmade #wearesansottas