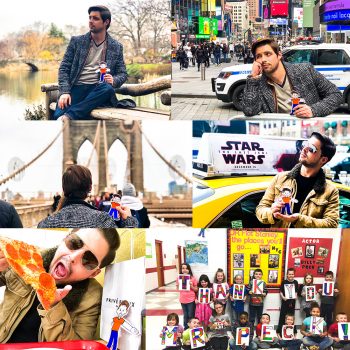 Taft Elementary: Flat Stanley's New York Adventure
For the first time, Katy Miller's second grade class at Taft Elementary School sent their Flat Stanley projects across the country to learn about different cultures and communities. One of Miller's students sent her Flat Stanley to, actor, Billy Peck. You may have seen him in Gotham, Quantico, or Kevin Can Wait. But maybe you've seen him performing at Elgin High School or, our very own, Palace Theatre!
Billy Peck grew up in Marion and graduated from Elgin. After graduation he moved to New York City, and is now living out his dream of being an actor!
While Stanley was in New York, Billy took him to Central Park, Grand Central Terminal, Time Square, One World Trade Center, the Brooklyn Bridge, and to Ray's for pizza! Not only did Stanley get to visit some of the most iconic locations in New York City, but he got to experience a true New York lifestyle, by taking subways, cabs, and walking to his destinations.
Billy Peck is an inspiration to the students at Taft Elementary. He grew up in the same hometown as them and worked hard to accomplish his goals. Now he's living his dream in New York and showing students that they can achieve their goals, too!
#WeAreMarionMade #WeAreFlatStanley #WeAreTaftElementary #WeAreBillyPeck